Cruise Line: Princess Cruises
Ship: Grand Princess
Sailing Date: December 3, 2005
Itinerary: Round-Trip Galveston, TX to Costa Maya, Belize, Grand Cayman & Cozumel
Part 2....
The Grand Princess:
I was excited about sailing the Grand, as I'd sailed three times already on her nearly-twin sister, Star Princess. I loved the Star. You're bound to have happy feelings about a ship you've gotten married on.
Anyway, the Grand was built in 1998, the first of the Grand-class vessels (no kidding!). She is showing a bit of wear, needing varnish and painting here and there, but is in good shape overall. To be honest, if the crew provides good service, I really don't care much if the balcony railing is a touch worn. Hard for me to complain really. My husband notices these things more.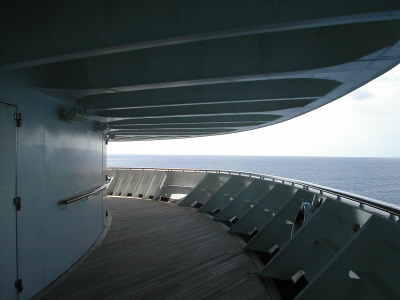 As stats show, she holds 2,600 passengers, double occupancy. More with third and fourth berths full. Some of my favorite feature are – walking the entire promenade, especially up to the front of the promenade which is actually the front of Emerald deck. I love being able to go to the very front of the ship and feel the wind in my face. This is NOT something you can do on many other ships. We spend the sail-away from Belize up there and saw a bunch of flying fish riding the wake. It was SO cool. You MUST try it. And they close that front section after dark now, so you have to remember to try it during the day. (See photo at left of the very front of the Promenading area of the Emerald Deck.)
The atrium on the Grand is pretty. The arrangement of the staircases is different than on her siblings and makes it seem more spacious. And don't forget to look up and enjoy the nice stained-glass at the top of the atrium.
Remember when planning pool time that the Calypso Pool is the bigger, uncovered one that now has the MUTS screen. The pool chairs there are white plastic. The Neptune's Reef pool is more for lounging adults, has nicer chairs with cushions, and has the covered roof. And the aft pool is the least used but very lovely overlooking the wake. However, if a more private hut tub is your plan, try the two that are sunken down into the spa area and surround the smaller pull with the "swim against the current" machine. You can access this one from the spa or from the Deck 16 sports deck down the stairs.
The Grand has a very large video arcade, something hard to find on some ships. And they also have some conference rooms, not a common feature on Princess ships.
Of course, the ship has many features you can see in the deck plan. I just wanted to point out a few things that stood out as different for me on the Grand as compared to other Grand-class ships and things that I really liked about her.
General comment about the ports and shore excursions: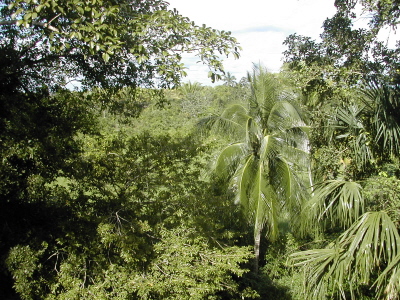 I have always advised my clients to take ship-based shore excursions so they don't get left behind at the ports. I'm the over-cautious type, so this has always been the main reason why I suggest this. Even if your excursion is late getting back to the pier, if you're on a tour organized by the cruise line you will not be left behind.
On this trip, I learned another lesson. Ship-based shore excursions get the first tender boats in ports where tendering is required. Since this itinerary had three tender stops and only docked once, having a Princess excursion in those tendering ports was "priceless". As you'll learn below, I stayed onboard in two ports out of four, so I could hear all of the announcements as they droned on. We were in port for hours as they called one Princess excursion tour after another before ANY numbered tender tickets were called in some places.
And, on Princess, folks that have sailed 15 times already and are "Elite" Captain's Circle members get priority tendering. However, I think this gets you in front of the "regular" numbered passengers and doesn't let you in with the Princess excursions getting those first boats. Since they're counting the heads in the tours as compared to how many seats there are in each tender, I believe those early tender boats are filled with ONLY the excursion folks. If an Elite member learns otherwise, be sure to let me know.
Costa Maya, Mexico, port-of-call: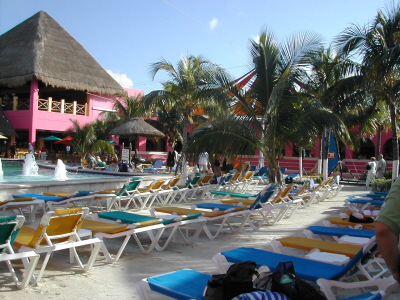 Costa Maya is a cruise pier built, basically, in the middle of nowhere. There is mention of the older fishing village of Mahahual nearby, as if that's the town the pier was built next to, but it's not. It's really just a cruise pier, with housing that has sprung up around it to support the workers that built the pier! And it's a great pier facility. Fairly new. And it can hold three ships per day. And it's not just a pier, but a big complex of shopping, dining, swimming in pools or beaches, an amphitheatre and lots of to see and hang out in before and after your tours.
The tours are varied. There are lots of water activities, ATVs and jungle rides that all look fun. The most common tour is the one we did though, the Chacchoben Mayan Ruins tour.
First, the port is nice and organized. We walked off the ship when we docked, over to a bunch of folks holding signs for various tours, lined up behind ours, and as soon as we had enough to fill a bus, we were off! Our tour guide was wonderful, telling us stuff all day almost non-stop. The ride was supposedly 1.5 hours each way, but we thought it was more like 45 minutes, so they must be counting the "getting organized on the pier" part of the travel time.
Once arriving at the site of the ruins, they we had a bathroom break that the open-air building where we could shop and buy drinks, and then we set off along the rutted path toward the ruins. I do want to STRONGLY STRESS that this tour is not for folks who can't do some stairs or are unsteady on their feet. The going was not uphill, but it was very uneven with roots and holes and you had to really watch your step. And there was quite a bit of walking.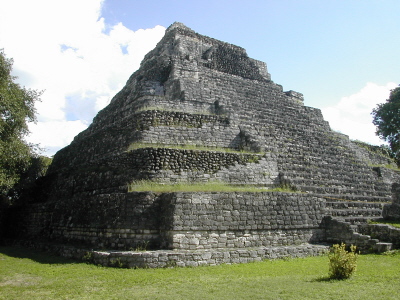 Our guide took us part way along the path and then sat us down on the side of one of the pyramid ruins and gave us a Mayan training / history lesson. It was very interesting. Then we set off again and she explained more different ruins we saw, some interesting vegetation, and then we arrived at the "main" pyramid thing that was up on a high platform. You had to go up some stairs to get to see it, but it wasn't too bad.
When we got back to the busses, we again had a bathroom and shopping break, but it was so hot, most of us just wanted to get in the cool bus with the complimentary bottles of water and siesta on the way back to the port. It's a very good tour, and I do suggest it. It's approximately 4 hours long, giving you time before or after to shop or hang out at the port buildings. This tour costs $79 per person. At the beginning of the tour a professional will take a photo of you in front of the first ruin, and you can choose to purchase it, or not, for $10 on your way home on the bus. And don't forget a few dollars to tip your guide.
We were the only ship in port on our Costa Maya day.
Belize City, port-of-call:
We arrived in Belize very early in the morning, and only for a half-day. I, quite honestly, did not get off the ship this day. However, my husband took the certified scuba tour, and really enjoyed it.
First, it was great that the dive boat picked the divers up right at our ship, not requiring a tender to the City, followed by a boat ride in the opposite direction. He said that they took the divers to their dive shop where they filled in their release forms and got fitted with equipment and such. He said this was the only drag of the trip, as they spent about 45 minutes there. Then they set off for the Turneffe Atoll and had a great two-tank dive that included some swim-thrus, tons of fish, and he was hopping around talking about sea turtles when he got back. He was very happy with the dive and his only regret was that there were some great t-shirts at the dive shop at the start of the trip that he wished he bought. He didn't realize they'd end the day by going straight from the second dive site to the ship. The tour is listed at approximately 5 hours, and costs $149 per person.
We were in port with two other ships this day, Explorer of the Seas, and Carnival Glory.
Grand Cayman, port-of-call: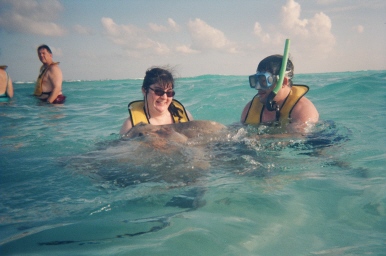 After having a super time playing with stingrays in Tahiti on my honeymoon in 2003, I was really looking forward to going to Stingray City in Grand Cayman. However, you must understand that I don't particularly like snorkeling, so I really just wanted to go straight to Stingray City and back. I found the perfect tour, it seemed, in the Princess book – a Catamaran sailboat ride to stingray sandbar. No stops other than that. I had read that the Stingray City was just a waist-deep sandbar, and it was. Perfect! I didn't even have to put on the stupid snorkel mask or worry about water in my nose, I just got to stand in the water and play with rays. I was very excited.
WELL, it didn't turn out quite so perfect. We were in port with FIVE other ships, big ones, and the tendering was slow. Even though we were one of the Princess excursions, we were one of the last excursion groups off the ship. When we arrived on the pier, we lined up behind the guy with the tour sign that we were on, but he was busy talking on the phone and didn't even acknowledge us for a long time. It seemed that we didn't have a bus waiting. And it was very much chaos as compared to the great experience we had in Costa Maya.
In the end, it turned out worse than that, the Catamaran vendor was anxious about us being late and took ANOTHER group out instead, even though we were all paid and confirmed! This made us irate, but the tour guy on the pier said had an alternate boat for us if we were willing, or we could cancel. We ended up going on the alternate boat, as, after all, it was the stingrays we really cared about. It's a bit of a bus ride to the other side of the island, and then a half-hour slow boat ride out to the sandbar where the stingrays flock. Quite a lot of riding and trouble for a short time with the rays really.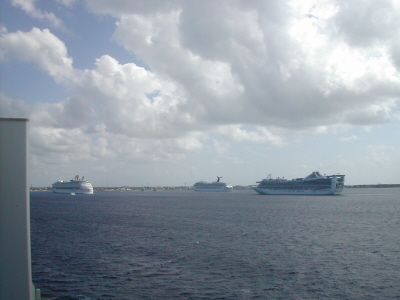 There were other snafus as well, the bus they ended up getting for us was too small. One couple ended up not going. The stingrays are VERY smart. When we had squids to feed them, they were happy to play with us. As soon as our boat ran out, they went elsewhere. We had 20 minutes with them or so, which I guess was enough anyway. I loved the shallow water though, and would have stayed longer if I could. We needed to get back to our ship, though lots of traffic, so it was good we didn't stay long.
I would NOT suggest this tour with the Catamaran guy, although Stingray City on someone's boat is a Must-Do. This tour costs $72 per person, but after complaining, we got a 40% refund back on our shipboard account. And don't forget to take money along with you in case you want to buy a video or something from the tour operator. Our tour had a woman taking a video the whole time, and then we were offered to buy it for $55. We did, and can't wait to get our DVD working so we can watch it. We spent a lot of time with the rays, as compared to folks that were afraid of them.
We were in port with FIVE other ships – Imagination, Fascination, Voyager of the Seas, Carnival Liberty and my beloved Star Princess.
Cozumel, Mexico, port-of-call:
Now, this stop was a tendering nightmare. Since Hurricane Wilma blew out the three beautiful cruise piers, you really need to think twice about stopping here. I did not plan an excursion here, but was going to get off the ship to check out the damage and maybe shop a little (even though friends said there isn't much to look at since the hurricane messed it all up). However, folks were still being called for tender tickets at ! And the last tender back was at supposedly. I decided to just relax and run around the ship taking photos of everything for my photo album.
My husband, of course, was on the certified scuba dive again. (We plan this for marital bliss by the way. Our deal is he dives, I spa and read, and we're a happy couple.) This time he says they had to tender to the pier before being transferred to the dive boat. He again said the dive was great, and came back spouting about a couple of big eagle rays they got to see. And he loved the "no work" drift diving that Cozumel offers. He had always heard of it, and was super happy to have tried it. The first dive was a big wall where they went pretty deep, and the second was a shallower reef.
Tipping:
On Princess they charge tips to your shipboard account automatically. It's a $10 per person total per day. You can always go to the purser's desk and complain if you have one and have it lowered, or ask them to give more, or just give someone more of a tip if you think they deserve it. Bar bills get 15% added automatically. The only real place you need to be concerned with remembering to tip on your own is that room service should get something for bringing you stuff, as they're not part of the main dining tipping pool.
Daytime Activities:
We found the daytime activities during the sea days and the port days good. There were lots of trivia and other types of games, some dance lessons, the usual bingo and art auctions. We passed over most of these to play poker or, in my case, just read. They did tend to offer more things on the port days than other lines do though, which I liked. On some lines, the ship nearly shuts down in port and if you choose to not spend the whole port time off-ship, there isn't much to do.
Disembarkation:
First things first, I want to say that even if you have a Princess transfer planned AND they've been given your outbound flights, you should STILL go to the Purser's desk and alert them before the second to last day of your flight. (I think I mentioned this before, but it's worth repeating.) Even though I bought their transfer and gave them my flight info in advance, they gave me the disembarkation color for my deck and not the early "Red" color for those passengers with Princess transfers. Then, we had to get in a big line at the Purser's desk on the last day to get it switched.
Second, when planning your flight home, consider a flight leaving Hobby after and Bush after if you want to see the Space Center. Or a flight leaving Hobby after and Bush after if you would like a tour of Galveston and Bishop's Palace. We, being like most folks, planned our flights as soon as we planned our cruise. WAY in advance. Once we got our pre-cruise packets though, we learned that there was some Princess post-cruise transfers that included some sightseeing rather than a direct transfer. Being that the transfer from the Galveston pier to either airport is pretty long, having interesting things to do along the way would have been much more fun. These tours can't be pre-reserved before you go on the cruise. They have to be arranged when you're on the ship, but I wanted you to know they're there.
If you want to walk off with your own luggage, and be one of the VERY first off the ship, they offer "Express Disembarkation". You have to register for it at the Purser's Desk during the cruise and get a number, but a lot of the Texans that had driven were going to take advantage of it. Be ready though, as the Express folks are the FIRST that are offered to leave the ship, at . Of course, you can get off the ship any time after you're called, so many of those folks probably disembarked later. They were waking us all up with announcements in the hall for Express folks at though. Ick!
We were the second color off, and we had no problems collecting our bags and proceeding through customs. It was a bit of a line at customs, but not the end of the world. After that, there was a lobby for shuttle services and such to "meet and greet" you. I'd suggest using Galveston Limo after my experience with Princess transfers. The Galveston Limo busses held about 15 people or so and seemed about the size of most hotel shuttle busses if you've seen them. Anyway, we had the transfers so we then were shuffled into a big line that was waiting to get on the many shuttle busses. Someone came along and asked to see our transfer vouchers from out ticket packets, asked us which airport we were going to, our airline, and marked our voucher with the proper airport and terminal. We were then told to present these to the person near our assigned bus and they loaded our luggage into the bins under the bus according to terminal.
We were very disgusted with our bus driver though. She wasn't particularly friendly, and when we arrived at the airport the terminal had already four busses in line so she decided to start with a different terminal and then work her way back to the main one which most of us had. In so doing though, she said that if we got out of that line, there would be no one to unload our bags from the bus. We were then responsible for climbing into the holds under the bus OURSELVES and dragging the bags out. And she refused to open the baggage compartment on the opposite side of the bus, where bags that had gone in first could have been gotten easier. I'm glad my husband was an able-bodied sort, as he was able to crawl fully into the hold to get our bags at the opposite side and help some of the elderly with theirs. It was unacceptable I thought. And I don't believe there was a restroom on these busses either.
In Summary: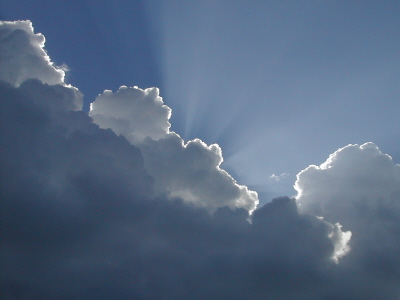 We had a wonderful vacation. As always, when I'm spending my OWN vacation time, as opposed to a work trip, I'm going to pick Princess. Overall, I'd class it as "excellent" and will continue to recommend it as my top choice cruise line. I was pretty pleased with nearly everything regarding the trip, and I learned a few things on this trip that will make future vacations better for myself and my clients. (Like paying close attention as to whether the ship docks or tenders.)
Please remember to contact me, Suzy, if you're interested in booking a cruise. Not only do I write detailed reviews, but I take care of all the details when I book your vacations as well. Please hit "Contact Us" at the top of this page.