Princess@Sea Instructions:
BEFORE YOU BOARD, download the Princess@Sea app. You want to grab this while you have your normal at home / on land access to the outside world Internet. In the App Store this is called Princess@Sea Messenger as of November, 2015, but it does more than Message. It is also available in Google Play of course, but I didn't get to see that visually since I have Apple devices.
This app will ONLY work when you are onboard, so don't expect it to do anything after you've downloaded it to your phone or tablet.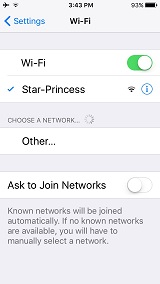 ONCE YOU'RE ONBOARD, put your device in Airplane Mode to disengage the Cell service to the outside world so you don't get charged for international roaming, and then engage your WiFi and hook onto the ship's Internet signal. It is free to access their on-ship WiFi to use inside the app. This will NOT connect you to the outside world though unless you choose to pay for an Internet plan like always.
You will need to sign up for the Princess@Sea app one time, choosing a login name and a password you can remember. What you choose doesn't really matter, as only you use it as you login. Your friends, once you add them as contacts, will see your legal name from your booking as the contact name. It prompts you for your birth date, name and cabin number as you sign in the first time, and then later you just login using that login and password you had created.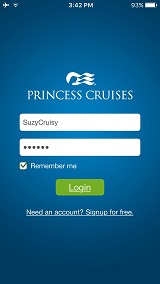 Each time you open the app you will need to re-signin. If you still have it open from a prior time you used it in your phone or tablet, it seems to unhook from the WiFi. My devices all autosaved my login name and password and I just had to click the login green button.
The Main page of the Princess@Sea has a Contacts section (for you to put in folks traveling with you so you can message on the ship), Cruise Planner (so you can view the daily activities at any time), and My Stateroom Account (so you can look at your onboard account at any time you wish). The "Home" page of the app always shows upcoming events based upon the current time.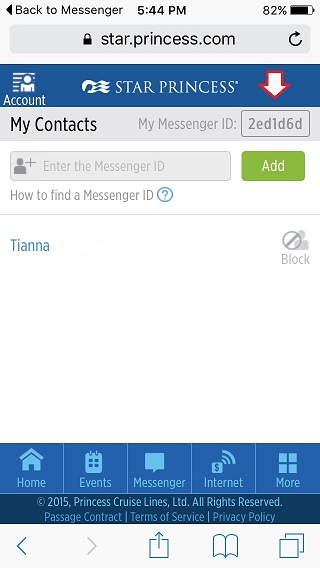 MESSAGES Of course, the main reason many want to use this is for the on ship messaging. Its a bit tricky to get set up, so this is the main reason I wanted to write this review for you all. Grab a note paper and a pen before you get started with this next step if there is more than two of you in your group. It'll help you get set up initially. When you're on the home page, hit "Account" in the upper left, then you will see "My Contacts" Click it.
You will have an obvious box for you to enter everyone in your group's MESSENGER ID. This is not the 'login' you created, which confused us as first. What you want to enter into this box is the Princess-assigned Messenger ID that is a bunch of letters and numbers showing at the top of the contacts page. [See the photo and look where the red highlighted arrow is pointing.] On my screen shot under Star Princess it says My Contacts, then in grey and very not obvious it says "My Messenger ID: 2ed1d6d" What you're going to enter to hook to each other is that coded thing that started with a 2 for me. Everyone in my group had a number that was very distinctly different.
My suggestion for the piece of paper is to write all these complex codes down for people in your group, and then you can enter everyone's code into your device quickly one after another. NOTE that once Suzy connects to Darleen, then they are connected and Darleen doesn't have to enter Suzy's code to have Suzy as a contact. So, its not as long and arduous as it might seem, but it still takes a while if you have a lot of people in your group. If someone gets connected that doesn't WANT to be connected to a person, they have the option to 'block' messages from that person. I can't see this happening with a family, but maybe its POSSIBLE it could happen with a large group. Maybe you only want to get messages from a few people, you can block the rest.
Note what I said about the app continuing to disconnect from the WiFi when you turn your device off. So, in order to check for messages from others or to send them, you'll have to open the app and manually check. There won't be any kind of alert or beep if someone is trying to reach you.
Creating your own events on the daily schedule - hit Account upper left, then My Cruise Planner, then "Create an Event" in green.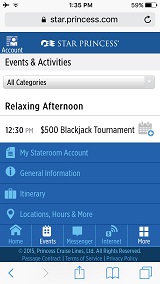 ACCESSING THE INTERNET OUTSIDE WORLD - Internet is one of the main sections of the App at the bottom of the page near the right. Just click on that if you want to connect to the outside world / purchase a plan. If you already paid for a plan, you will be prompted to login to start counting down your plan minutes you had paid for. As always, you need to remember to logout so your counter stops using your minutes when you're done accessing the Internet to the outside world.
General on-ship WiFi tip: WiFi is often best accessed from public areas. Its SUPPOSED to be available in your cabins also, but sometimes the signal isn't good through all that steel. Too alleviate this problem in your cabin, prop your garbage can in your cabin door. The signal is always good in the hallway.
Just as a side note that I happened to notice because I was using this new app for the very first time when I was traveling with a group of my family - All of us with iPhones and iPads were having good success with the app connecting, staying connected if we turned on our device, and signing up successfully. Those in the group with Androids were constantly dropping the WiFi and having lots of problems signing up. We eventually gave up on the non-Apple family phones as most of the time at least two family members were together, and we communicated pretty well having just half of us signed up. Over time, I'm sure this will improve, but just an advance warning there. The android version of the app may be a bit buggy at the start.
I hope you found this helpful. Since you can't do much of this until you're on the ship, where you might not have access to the outside world Internet and my Website with this review, I suggest you might want to take a hard copy of this review on ship with you so you can be reminded of how it works as you board. Once you've got it going, you'll not need to refer to it again.
Please contact us at the top right of this page to help plan your next cruise of any type on any line. You won't find another agent more helpful and knowledgable than Suzy Cruisy!