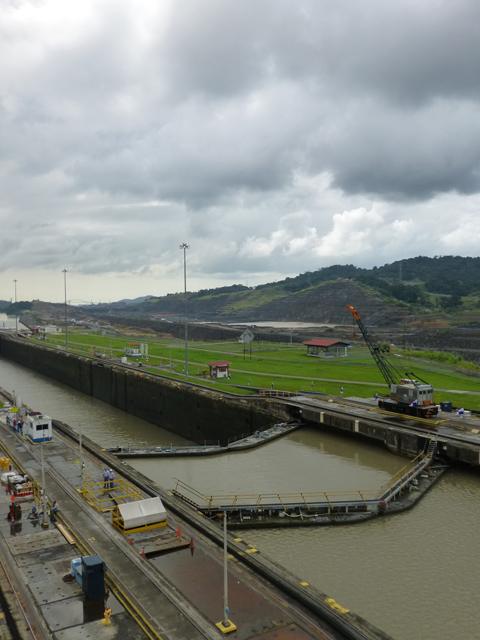 Coral Princess Review
October 25 – November 11, 2012
Panama Canal Full Transit 14 nights
Itinerary -
Los Angeles – depart 4pm or so
sea
Cabo San Lucas, Mexico – afternoon
3 days at sea
San Juan del Sur, Nicaragua – full day
Puntarenas, Costa Rica – full day
sea
Cruising through the Panama Canal – full day
Cartegena, Columbia – morning half day only
Aruba – afternoon half day only
2 days at sea
Fort Lauderdale, FL - arrive 7a if on time
I am going to make this review more brief than I normally do. In essence, this cruise is all about going through the Panama Canal, and nothing else about it really mattered to me to be quite honest.
If you're trying to decide whether you want to do the full transit (all the way from the Pacific Ocean to the Caribbean Sea or reverse) vs one of the 'round trip' Panama Canal cruises from Florida, do yourself a favor and hold out for the all the way through voyage. The Pacific Ocean side locks plus the Gaillard Cut are incredibly interesting. The Gatun Locks on the Caribbean Sea side are more standard issue, although they're fun as far as the whole lock system experience.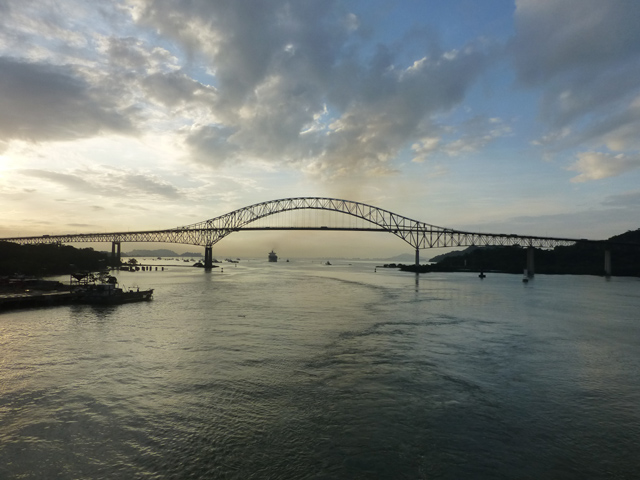 Given the choice - sail from LA to FL like I did. You run with the ocean currents on the Pacific Ocean side all the way down the coast and I swear, this was my smoothest overall cruise in all 40+ I've been on. It was absolutely fabulously comfortable the whole way to the Panama Canal.
Also given the choice – once the new channel opens in 2014, go through the old Canal your first time. It's VERY interesting to go thru the locks in a massive ship with only two feet on each side for clearance in the whole width of the Canal (110ft wide). You're also closer to the people and mechanisms of the Panama Canal this way. One of my favorite parts of the whole trip was the dense jungle being very close to the ship in the Gatun Locks end. If you're away from the 'mules' that move the ship forward and back, you can HEAR the jungle. It was amazing listening from my balcony. Once the new Canal lane opens, it'll be like going on a big, wide freeway instead of a cute country road. Take it for the awe and wonder of the new recycled water system as a comparison to the old version, but do the old version first.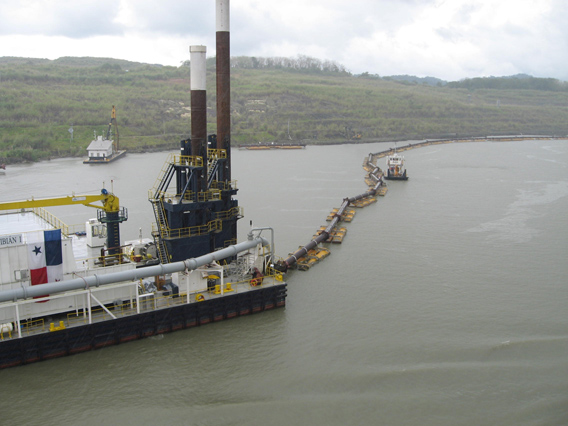 Oddities about the itinerary – My voyage was originally a 14-day with a stop in Fuerte Amador for Panama City and the "Two Day Panama Canal Experience". I was really looking forward to riding the Panama Railroad along the original canal route in the Fuerte Amador day, but that day was deleted of my and many other Princess Cruises Panama Canal voyages. They replaced Fuerte Amador with San Juan del Sur, Nicaragua. No explanation. Maybe Panama City is not a great place to be right now? It's funny, but the Nicaraguan replacement port was one of the best ports we had the whole trip! Don't be afraid to get off and explore there!
One thing that disappointed many port loving people (I'm more into the sea days, so it's not such a big deal for me) is that we had quite a few partial port days when we actually DID have a port. Cabo San Lucas as a half day, Cartegena, Columbia and Aruba. For 2013 they are CHANGING this itinerary to be a 15-day with a full day in Cabo San Lucas instead of a half (adding a sea day at the start of the cruise from LA). So, that's good. One thing I thought was odd though is the half day in Cartagena and half in Aruba. Honestly, give us a full day in one of these and dump the other, will ya?
When to go – quirks about the pricing. This is what you need to know about Panama Canal voyages (full transits). There are a lot of them going from Florida to California in the Spring (April), and reverse in the Fall (September and October). This is because ships are repositioning for the Alaska sailing season from or to the Caribbean. You could get a decent value on one of these if a line is doing a lot of them around the same dates with similar ports. In the Winter (October to March) some lines, like Princess, send ships back and forth as a standard itinerary. Some of these will be a great value, others won't. It's all about supply and demand on those. HOWEVER, keep in mind that itineraries that are only offered only once tend to be very popular and more expensive. For example, a line that only transits one ship through the Canal and all the fans of that line crowd onto one voyage. A voyage that is longer with more ports than standard. OR a unique start or end port. In Princess' lineup of Panama Canal transits, they normally have ONE that starts or ends in San Francisco. This ONE is insanely popular and sold out with higher prices. If you're willing to just do the standard Los Angeles to Florida instead of San Francisco to Florida, you can save a bundle.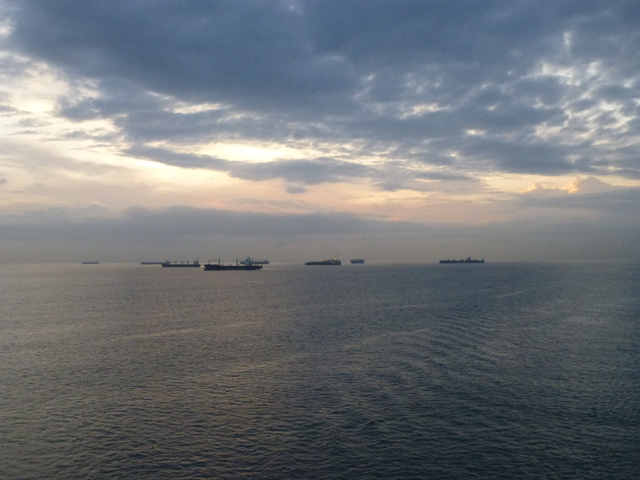 Panama Canal Day on the Cruise -
First – know that this is a long day and the ship will take a full 8 hours to do the transit of the locks. We boarded our Panama Canal pilot at 5:23am and offloaded him and his compatriots at 15:37. And my Mom and I counted the staff from the Canal that boarded. 27! What all these folks did all day, I'll never know. Say, WOW…
It's important to get up early, no matter which direction you're transiting. One of the things that fascinated me the most about this was the volume of ships parked in the vicinity of the entrance to the Canal on the Pacific Ocean. Even though we sailed right up at a continuous pace, there are many longer distance traveling cargo ships and the like that have a less certain schedule and they might wait in the queue / staging area for a few days. If you're in the smartphone or tablet world, look for the app called Marine Traffic. It was fascinating to simply see how many ships were on the radar around us, regardless of what we could see with our eyes. Also, the Bridge of the Americas is one of the very first things you see or transit under as you begin the transit of the Canal from the Pacific Ocean. It would be a shame to miss this beautiful bridge.
Where to transit – advice about your cabin and where to be as you transit all day. Don't forget that Panama is at the equator pretty much. And it's VERY tropical and jungly and, gee, that means it rains A LOT. During our transit it positively dumped pouring tropical rain on us about four? times during the day. So, don't plan to stand or sit in an uncovered area all day. You can move around like we did, or stay put on your balcony if you wish, but strive to get a COVERED one. We had an uncovered mini-suite on Dolphin, but my mother-in-law had a great covered balcony D303. I don't think it matters which side. You never know which chute you're going to end up in, so they're both good. We could view the new channel they were building on the port side.
Besides your own balcony, you want to spend some time at the extreme forward and aft of the ship, as that's where you can really see the elevation changes as you go thru the locks. Maybe forward as you go up and aft as you go down from Gatun Lake, with some relaxing time in your own balcony in the middle. The best forward place is the front of DECK 10 – CARIBE. You can access the viewing platform from the port side hallway. And our favorite aft-facing deck was our own, DECK 9 – DOLPHIN. (NO forward access on Deck 9. That is a crew viewing area.) The aft of both the Coral and Island Princess have NO aft-facing balconies. There are little strips of open standing decks back there. The corners of these aft decks are covered, so it wasn't terrible in the rain in the aft. And Deck 10 forward was better than Deck 11 because Deck 10 is covered near the ship. Deck 11 forward is totally UNcovered. There are also less people on Deck 10 forward as many folks would filter from Deck 14 pool deck down to 11 but not down further for some reason. (Worked for me!) Take a chair forward or aft if you're going to hang out a while.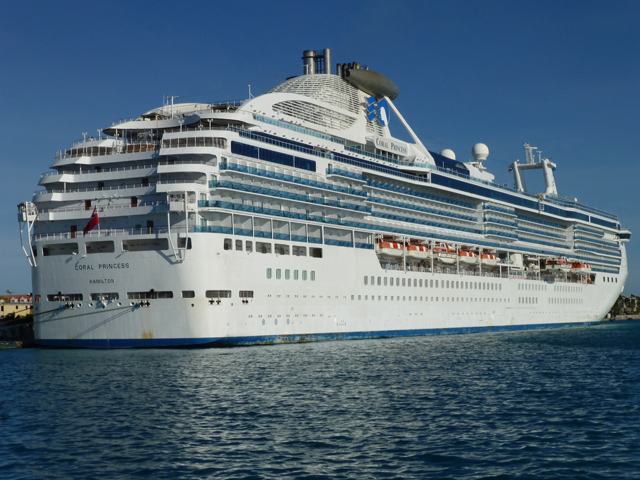 Information and education - Princess does a fabulous job all through the Panama Canal cruise in talking to you about the building of the Canal through live lectures and also movies and documentaries on the TV, Movies Under the Stars some nights, and movies in the Princess Theatre. And when you're IN the Canal the narrator is on the bridge doing commentary all day (you can hear him on public decks and on one of your TV channels that shows the bridge cam). You also get an informational brochure from the Panama Canal Authority on the transit day with fun little facts and diagrams. You might wish to visit their Website www.pancanal.com to watch a live webcam or to learn more about the new channel opening in 2014.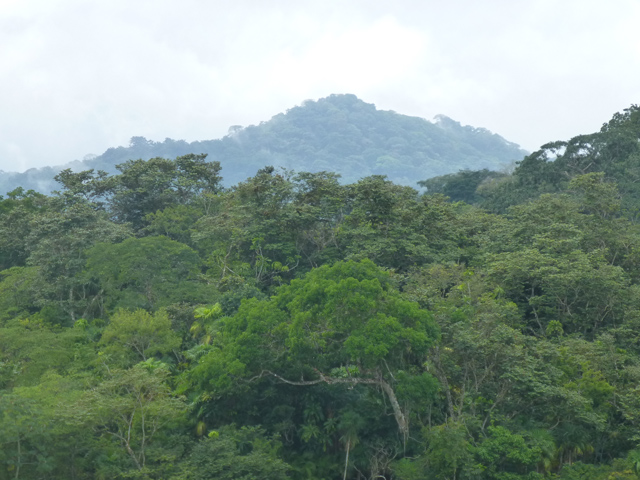 On Ship Entertainment –
I just wanted to add a couple things about the onboard entertainment schedule. One of Princess' newer things is they have language lessons in a series during the cruise. Our cruise had Spanish since we visited many ports where Spanish is the primary language. We learned a ton during EIGHT lessons. Everything we learned would help us in ports, like how to count, negotiate for purchases and taxis, order food and wine, and converse with general pleasantries with the locals.
Although I'm nowhere fluent and my hubby and I need to practice more so we don't forget everything, one of my highlights was successfully negotiating a bunch of purchases in Spanish at the Mercado in Nicaragua! (And I'm not really a 'shopper' type of gal, just so you know.)
We were a bit disappointed that Princess' singing and dancing production shows were only offered one time in our voyage. In the past, they offered each show twice. That way, if you were smart, you could skip the crowds on the first day and go the second day that was offered. Because we skipped the first day, we ended up with no second opportunity! It's OK though, as I'm sure we'll have a chance again. The singers and comedians they brought on for certain segments of the cruise were good!
Dining –
We weren't too impressed with the dining on this ship.

Princess has changed the menus for the main dining room and we didn't like the selection much. We ate in the buffet many more nights than I ever have before. However, the buffet food, service, and variety were better than we had experienced before, so it wasn't a bad trade-off. Each night they have one 'hot item' that is made fresh as you wait, and it was great each time we tried it. So, maybe give the buffet more of a try next time you sail as well? Our plan was to check out the main dining room menu and see if there was anything we didn't want to miss. And if not, then we headed to the buffet. Honestly, why get dressed up if your plan for the evening is to sit outside in the humidity watching Movies Under the Stars?
And we tried the pay-extra Sabatini's the first night and it was NOT good. That was disappointing because it was absolutely fabulous on our Caribbean Princess cruise in February. There is definitely a ship to ship difference there - depending on the staff. So, up to you if you want to do that gamble or not.
Overall -
A great cruise with good service. I would strongly suggest either the Coral or the Island Princess if you're wanting to sail the Panama Canal. They are 'purpose built' for the Canal (meaning they were built to fit in the width of the Canal specifically), and they are the two ships nearly always assigned to Panama Canal duties for the line. They are a lovely mid-sized ship. They have more gorgeous and expansive atriums than the Princess Grand-class ships, but a few less of the Grand-class features as well. They are one of my favorites and I wish there were more than two of them!
The Coral Princess will have a major dry dock in January of 2013, adding some features that are in the rest of the fleet (International Cafe for one) and a few other things. If you go on her after that date, she will be even better!
And a full transit of the Panama Canal should be on everyone's bucket list! There are sometimes great values on this, so don't hesitate if you can spare the 14 or 15 day time. The timing is often the most challenging. That is honestly why it took me this long to make it onto this voyage I've always wanted to do!
To book this or other Princess cruises, hit Contact Us at the top of the page, or search through the Website for itineraries and send me a specific request. ~ Suzy