Caribbean Princess Review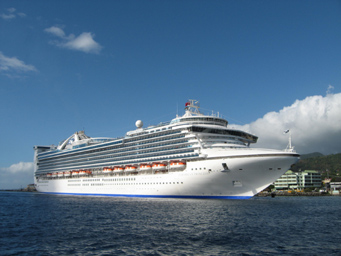 Itinerary -
San Juan, PR - depart 11pm
St. Thomas, USVI - 7a to 6p
Tortola, BVI - 8a to 6p
Antigua - 8a to 5p
Dominica - 8a to 5p
Barbados - 8a to 5p
Sea Day
San Juan, PR - arrive 6a if on time
Pre-Cruise Hotel -
Many of the best hotels in San Juan are extremely expensive. However, its always a great plan to fly in a day early, so I searched hard to find a decent hotel at a reasonable price for our one pre-cruise night. Neither my husband nor I do red-eye flights well, which many in my group actually did take.
We ended up at the Radisson Ambassador Hotel & Casino. This was a decent 3-star hotel. I'm not even sure of the location within San Juan because our flight arrived at 11pm and we checked out the next morning in preparation of the cruise. It was clean and comfortable and cost about $200 total including all taxes, prepaid. We even got upgraded to a suite since we arrived so late, but it made no difference to us. The taxi to the hotel cost $19 plus $1 for each bag.
The only drawback was certainly the check-out procedure. Check out was at noon and the hotel didn't allow any late check outs, so the entire hotel seemed to want to hit the lobby at the same time. There was a gaggle of people at the front desk lined up to check out (in person was the only way). Then there was ANOTHER line for the bell desk, as many folks wanted to sightsee in San Juan for the day but needed to store their cruise baggage. We lucked out and snagged a bellman in the elevator lobby and he held our pile of bags while we went for late breakfast.
The restaurant in the hotel was OK but slow. We weren't in a rush and enjoyed the company of one of the other ladies in our group, so it was fine. Not a place to go in a rush. And the casino on property was fine. We wandered through it just to look before departing. The hotel actually did give us some free $10 gaming vouchers and free drink coupons, but we didn't use them.
When we were ready to depart around 2:30pm we easily hailed a taxi out the front of the hotel to take us to the pier. We got large van and the price was $16 plus $1 per bag.
Embarkation San Juan -
The pier check in was a breeze. The only slow part was handing our bags to the porters outside. Once in the building though, there was not a single person in line and we were on the ship within 5 minutes. Some friends in our group said they also got on fast earlier in the day. Because of the very late sail away, I'm guessing it spreads the crowds over so many hours maybe check in is good often. We had been warned that if they weren't open yet we would have to sit WITH our baggage, but that didn't happen.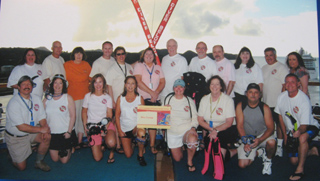 My group of scuba divers -

For this sailing I booked a group of scuba divers, so I was kinda sorta there for the group but not really. There is a fabulous OTHER Suzi who was truly the onboard group leader who chartered boats in all ports and organized on ship activities. I was just the travel agent that booked them and my husband participated as a scuba diver. (So, he spent more time with most of them than me!)

If you're interested in joining the dive group as a diver, you're welcome to contact me about when the next one is. You should be certified Advanced Open Water before the cruise starts. The dives are truly better experiences than the dives you get with the cruise ship. And there are many non-diving friends, family, and spouses, so don't feel obligated to dive every dive or that its too hard core for you. That's why Suzi organizes them on regular cruise lines.

St Thomas -

The dive group did a shore dive and those that participated had a great time. My husband and I had a relaxing day off from any tours or activities, and just stepped off to shop at the port a short time. We were still recovering from our 13-hour double connection flight from California to San Juan on Saturday!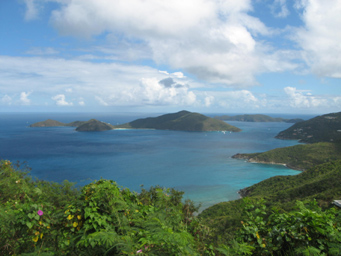 Tortola -
The divers did the wreck of the Rhone (a famous sunken ship) and a coral reef. The Rhone was a massively crowded dive site and I think my husband's the least favorite of the week.
Myself and one of the non-diving wives, Kathy, walked off the pier and signed up for an island tour in a nice air-conditioned bus for the afternoon. We had a great time, and for the 3-hour tour the cost was only $20. Worth every penny!
Antigua - an tee gah
It was our first time to Antigua, so hubby and I did an island tour. It was Princess' most popular option - Nelson's Dockyard, Shirley Point and the Dow Hill Interpretive Center. Basically, a tour across the small island with high scenic stops. The first was at some ruins at the top of the hill where you can see the Caribbean Sea on one side and the Atlantic on the other.
The second stop was Shirley Point, which was a lookout fort on top of a hill and the views there were truly spectacular of the Nelson's Dockyard yacht harbor and the protected inner harbor. Think postcard perfect.
The third was Dow Hill, which has an informative presentation of the history of Antigua and a different view of Nelson's Dockyard.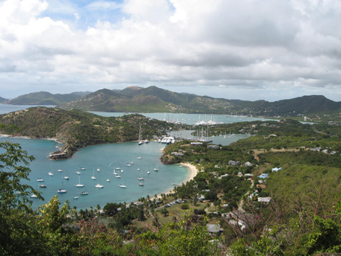 Lastly, we stopped in Nelson's Dockyard itself. It was quite pretty. Lots of t-shirt sellers, but also art and restaurants and services that actually do serve the many sailboats and large yachts that come in. As part of our 45 minutes there we were given a short guided walk, and then sent to a restaurant for free fruit or rum punch with free time to shop afterwards as long as we got back to the bus on time. Very enjoyable.
Some of our friends went zip-lining on a ship tour. They had a good time but said the transportation to and from the ship was a bit disorganized.
Dominica - locals say DOME in ee ka
The scuba divers dove some really pretty pinnacles today. By far hubby's favorite stop.
I teamed up with Kathy again and we went whale watching on a Princess tour. It was an all afternoon tour, with a meet up around 12:30pm and a finish around 4pm with last onboard scheduled for 4:30pm.
The whale watching had its highs and lows. The high was we sat at the very front of the boat on a square sitting platform, so when we saw whales they were right in front of us. The low was the tour operator just tooled around slowly for the full three hour tour, even though there was nothing to see in the water for most of the trip. We were all hot and tired and wishing it was over well before it was.
I'd never seen a sperm whale in person before though, and we were definitely treated to a good view when a large male and two females hung out together for an extended time on the surface. I was surprised at this, as most whales I'd seen were only puffs of breathing and a tail here and there. You don't usually see the whole body. In this case they seem to stay right on the surface with the waves washing over them, sometimes fully exposing their whole backs, and breathing periodically. A couple of times they did a deep dive and we got great tail shots but didn't see them for a few minutes.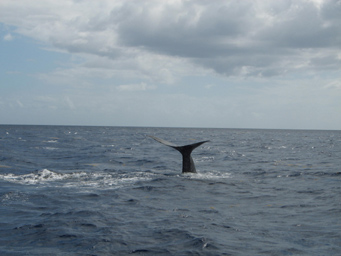 Our time with the whales was rudely stopped by some divers (NOT mine) who zoomed up right in front of them in a small boat and then proceeded to jump in the water with the whales! I think that upset the whales as they went below for a while and we left the area. Supposedly there were dolphins around too, but we didn't see any.
Dominica is a beautiful, plush island of mountains and greenery, and there was a lot to see there. There was a jungle arial tram I also wanted to do, but my friend did it instead. I can't wait to get his photos as well. I wish we had more time there, and strongly encourage Caribbean trips that stop there.
Barbados -
This is a very industrial port and we had to take a dedicated bus from the ship to the terminal here. An extra step of a few minutes, so be sure if you're doing a tour you know where it meets. If its outside the terminal, be sure to give a few extra minutes for the filling of the bus and the few minute bus ride through the port.
Although it was my first time to this stop, I was so tired after multiple straight days of touring without a relaxing sea day that I canceled my island tour I had scheduled and Kathy and I took a taxi to town for shopping instead. They have a town shuttle at the pier that only cost $2 per person, and a private taxi back was only $10 total for the both of us.
We didn't find much to shop for, but enjoyed getting out a bit. We were hot though, and enjoyed wandering around the cruise terminal shopping in the air conditioning once we got back more than we enjoyed Bridgetown. If you want to just get off the ship a few minutes, I'd suggest the terminal more than the town.
The divers dove a small shipwreck and then went to a spot with high currents and low visibility and didn't have a lot to report back about this particular day.
Dining -
We had Personal Choice dining and had great success with most of the servers we were assigned to. We only had one slow evening in that regard. The food was only OK most nights though. Not a lot to write home about. Certainly not raving. I still overate on the trip though, so who am I to complain?
If you have Personal Choice, know the Deck 5 dining room is available for flex time seating starting at 5:30pm and the Deck 6 from 6pm. We had the best success in the Deck 5, and the slowest in Deck 6. I generally suggest you head for the lower of the two, as folks coming down from their cabins usually stop at the first lineup they see, which is Deck 6.
We did try Sabatini's pay-extra one night, and it was really great. They have changed the menu to be a la carte rather than bringing you a zillion dishes like it used to be. This worked fine for me, as among the four of us friends dining we sampled each others' as well as having our own entrees. I particularly loved 'lobster three ways'. The dessert with raspberries was NOT good, but the raspberries on top were, so I had only those and was full.
The Crown Grill is huge on the Caribbean Princess since its rearrangement, and it was quite busy. We didn't try it this trip since we just did that on the Ruby in November.
I personally appreciate that Princess serves breakfast in the buffet until 11:30am each morning. Since I'm not an early riser, this is a very huge Woo Hoo for me. If you've only sailed on other lines with more strict dining, please know that on Princess you can get non room service food 24 hours a day. Its not so much that I always need to be eating, but more the fact that I like to be on a much later than everyone else schedule. Sleep late, eat breakfast late, maybe have lunch very late but more often have an early dinner and really only do two main meals a day with a small snack in between. On other lines with strict dining times, I often seem to want to eat when they have the restaurants closed.
If you're sailing on Princess for the first time or the first time in a long time, you need to be sure you're aware of the great offerings in the International Cafe at the bottom of the Piazza style atrium on Deck 5. For breakfast its continental there, so not too substantial, but fun for a roll if that's your thing.
Lunch or afternoon snack was my favorite meal to eat there. They have cashew apple (waldorf) chicken salad every day and I love that stuff! I ate it nearly every day when returning from my shore trip. They had a variety of other sandwiches and salads there, as well as a different quiche daily. These same items are served all afternoon and evening if you want a quick bite rather than a sit down meal. And they always had a full case of small desserts as well. So, if you're an experienced cruiser and used to heading to the buffet or the hamburger grill for lunch daily, try to remember the International Cafe exists. You'll enjoy the change of pace a day or two on your cruise.
Vines Wine Bar on Deck 5 also is obviously a place for wine. But if you enjoy sushi, then make a note that by buying a drink of some sort at Vines you could get free fresh sushi as well in the evenings.
Platinum & Elite Lounge -
One of Princess' newer Captain's Circle perks is this food and drink lounge open from 5 - 6p, normally in Skywalkers on ships that have that. They feature a different food theme plus a discounted drink each time they offer it. On our last few cruises this was every night. However, on this particular sailing it was only offered three nights out of seven. We attended the last night, when it was shrimp cocktail and cosmos night.
An improvement you'll notice -
Something Princess has added to a few ships (and will probably do all soon) is the ability to print your onboard account at kiosks on demand. On this ship they had two kiosks on either side of the purser's desk. Since that's what many of us stand in line for at the desk, this is universally popular and here to stay. I printed mine about four times during the trip. I ended up canceling two out of four of my shore excursions originally pre booked, so it was handy to check my account the day after to confirm they had been removed.
Entertainment -
Since we cruise Princess often, sometimes the entertainment choices are limited for us. On this cruise we went to the showroom once and saw and impressionist / comedian. He was quite good. We skipped the two production shows since we'd seen them before. Also, because of the early start of the dives, we actually didn't stay up too late on any day prior to one so our choices were slim for that reason as well. We spent some time in the casino each evening since we love playing poker on the electronic table.
Of course, the Movies Under the Stars big outside screen is popular with many, but we didn't partake in that this time. We watch so many movies at home, its hard to coordinate one we haven't seen yet! And we don't like to sit outside in our formal wear, so that wipes out two out of seven of the nights as MUTS possibilities.
For a change, I didn't do any services in the spa nor do any educational or craft activities on the ship this time, but the choices were good.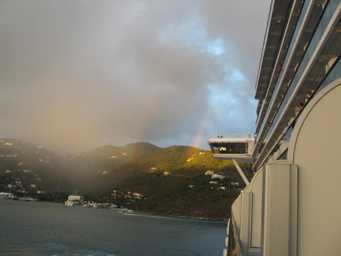 Overall -
A great cruise with good service. We thought our room steward and a waitress we had often were so good we tipped them more than the standard on the last night, which is rare for us. I could tell the hotel manager on this ship is organized as the crew seems happy and the service is good. Its funny how much the attitude on ship can be different ship to ship in the same cruise line, but its true for sure. The Caribbean Princess was a well-oiled machine for us.
I didn't particularly love this itinerary, simply because it is so port-intensive, but that's just my own personal preference. I love those sea days for relaxing and doing on-ship activities. I'll be looking forward to my next voyage in May where I don't plan to step off the ship much.
To book this or other Princess cruises, hit Contact Us at the top right of the page, or search through the Website for itineraries and send me a specific request.