I went on this cruise because there was a travel agent training seminar on it. I learned a great deal about both Celebrity Cruise Line and Royal Caribbean Cruise Line, but I didn't do a lot of "activities" to speak of on this cruise. I WAS able to take my husband on it though, so that's a real plus.
San Francisco / Embarkation:
The Pier 35 cruise terminal in San Francisco (SF) is nothing to write home about. The cruise ships use the old industrial docks with warehouses on them as SF hasn't yet built a high-class cruise terminal. And if your are getting on there and can't walk far - take a taxi to the terminal. They had the strangest arrangement there - no parking anywhere near the dock for passenger cars, but they had a huge area roped off where only taxis could go right in front. One thing that was nice about it though was that the cruise dock was in a very convenient location within SF. It is right next to Pier 39, a big tourist draw, and has easy access to Grey Line Tours.
Celebrity has a strange embarkation process. Rather than using the main floor of the warehouse, they shuffled folks upstairs into a smaller room and gave us some papers to complete as we sat in a certain area. And they also gave us a group number. So, we would all fill in our papers, and then sit and wait for our group to be invited to embark. Since only ONE person was handing out the forms to complete and giving the group numbers, the line leading up to her as folks came into the building got TERRIBLY long. I hope they've improved this process. The ship holds 2000 people. Can you imagine??? Arrive EARLY, as we did. I always shoot for or whenever I cruise, and this worked well for me this time for sure!
Dining: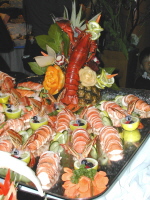 I thought the food was most excellent. I enjoyed every meal in the dining room, both for the food and the service. The food quality was the best I had gotten on ANY cruise, and the service was also at the very top of my list. It was traditional seating, and they enforced the dress code, and there wasn't much in the way of alternate dining facilities offered so don't miss your dining seating!
I will add though that they had a FABULOUS buffet one night. OMG you should have seen what they made, the food art was incredible! Don't miss it. Take your camera! They also had a tropical deck party buffet the night before we reached Cabo, which was a lot of fun with tropical drinks in pineapples and such.
Cabin:
We had a low deck oceanview cabin, Category 7, #4024. It was my first time sailing this low, and also my first oceanview. (I had done insides or balconies prior.) We really liked the cabin, except for the fact that you had to crawl on the bed to look out the window. We had some friends in an oceanview on a higher deck that had a different configuration to their cabin, but we liked our location better. I'll explain more in a minute.
The bathroom was large and comfortable.. a full-sized shower, not a postage-stamp one. The one thing I didn't like was the hair dryer. Its a European style one, installed in the bathroom above the toilet, and it gets so hot when you use it you burn your hand! I had to have a washcloth wrapped around it whenever I used it. I just really didn't like it. It was uncomfortable having to sit on the toilet seat to do my hair too. I much prefer the other ships I've been on where the built in hair dryer is in the main cabin area at the vanity. This allows your traveling companion to use the bathroom while you dry your hair. DEFINATELY TAKE YOUR OWN HAIR DRYER ON THIS SHIP.
There was plenty of closet space, and bathrobes for us to use while we sailed. I am SO spoiled after going on Princess, where robes are available for every passenger to use, I expect this on all lines and get really disappointed when it's not offered. So, kudos to Celebrity for that!
Every night we got a chocolate on our bed (normal), but also a little weather forecast for the next day. I thought that was a cool addition Celebrity does!
The decor of the cabin was nothing to write home about. It had what my husband and I call "Royal Caribbean walls". On the Royal Caribbean and Celebrity ships (both of these lines are owned by RCL, Inc. by the way), they build the cabins with plain white metal panels. Its so stark and makes you feel like you're in a cabin. Other lines have earth-toned metal panels that are much "warmer". Its difficult to explain, sorry!
Entertainment:
The quality of the entertainment was top-notch. The production shows were very good. The Comedians were good. The singers were good. We were just really happy with it. The only thing we didn't like was the fact that there is ONE show for your ONE dining time, and not much flexibility in choosing your own schedule. Besides the main show each evening, dancing in various other little lounges was all that was offered. We would have preferred more entertainment choices.
The Mercury:
I'm not a big art freak, but I missed seeing different art all over the ship. Seems most lines do that. The Mercury was very art deco, and the whole ship was the same. Every stair area was exactly the same on every level in every section of the ship. Lots of Blue.
One of my favorite places to hang out usually is the high up viewing bar (whatever they call it on the particular ship I'm on). On the Mercury, it was the Navigator Club. Although the facility was fine, it was SO smoky up there I couldn't stand it. They adhered to the smoking on one side of the room policy, but when you're in a glass and steel bubble, where the heck do you think the smoke is going to go?
The ship has one main pool area in the center, and one small one in the aft. There are three spas in the main area. It also had the usual compliment of cruise ships: casino, showroom, buffet, shopping, etc. One thing I really liked was that it had a movie theatre separate from the showroom. They showed some older, funky movies in the afternoons and some evenings. It was comfortable though (that's where my seminars were, so I spent three full days there!).
There are some interesting spaces on the Mercury. The Champagne Bar is down in a "hole" toward the aft of the Plaza deck. You can't walk up and down the Plaza deck to get to it, as the main galley is on that deck. If you want to hang there, you have to go down to it from the Promenade deck.
OK, here is "THE ISSUE" I had with the Mercury. It appeared to have no stabilizers. I know it does, but they must not work. I've never taken such a rough ride. I know the CA Coast going northbound is bad, I do it all the time. I also know that going in and out of SF is bad. I'm telling you, going SOUTH, when the water looked really smooth we were rocking and rolling. The ship was porpoising so bad on the way up on the last day the front of the ship was literally slamming the ocean like a speedboat does. Can you imagine a 77,713 ton ship slamming the ocean? During dinner! Not fun. They had sickness bags available at every elevator, and many folks missed dinner. I visited some friends in higher deck cabins, and I literally couldn't handle the motion. I had SUCH a headache when I got done visiting. I had some friends on the Panorama deck, and that one was a little rough, but had others on the Penthouse deck, and that's the one that killed me. We couldn't wait to get back down to our low cabin.
The Mercury's twins are Galaxy and Century, so I don't know if I'll be rushing to get on one of those either. I'd heard reports of this motion issue on them as well before we sailed.
To be fair, I've had folks sailing on this ship on other dates when they said it was nothing like this, but since I'm a person that is sensitive to motion, I want all my fellow compadres to know what I went through! I'm sure glad I had my SeaBands!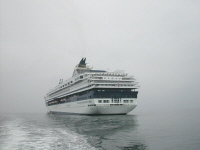 Monterey, CA, port-of-call:
Like most of the folks on this ship, we were from Northern California. Many of us have been to Monterey many times, so it was just a stop and not really a "to die for" destination. The ship anchors out in the bay pretty far and you take the ship's tenders to the main pier in Monterey. This is nice, as most of the tourist stuff you'll want to buy or eat is right there on the pier. We just walked around a little on the pier, enjoyed the view of the fog (so foggy we couldn't even see the ship from the end of the pier!), and shopped a little.
If it's your first time to Monterey, you MUST go to the Monterey Bay Aquarium. The number of hours you have is not sufficient to see everything in detail, but since it's the best Aquarium in the world, you've got to at least SEE it. You could buy a shore excursion to the Aquarium from the cruise line, which I would suggest to make sure you don't miss the ship on the return.
Catalina Island, CA, port-of-call:
We spent one day in Catalina, which was nice. Catalina is a little resort island off the coast from LA. They have one city there where the ship docks called Avalon on a pretty little bay. There are many day tours that you can do in Catalina. There is one company, an island parks organization, that runs most of them. It's not necessary for you to buy your excursions through the ship here. Just get off the tender and go to the office right on the corner in the main area and you can buy all different types of tours. The ship offers the same price, but for some reason didn't offer all the times. Through the ship they only offered morning excursions, even though we were going to be there all day. We didn't want to get in the rush to get off the ship, so we decided to just "wing it". We did well. We took a bus tour of the island and it was very enjoyable and educational.
Other tours you can do are glass-bottom boat, a sub-boat (the top of the boat is at the surface, but there are viewing windows down below), or a guided tour of "The Casino". The Casino is a classic, round auditorium with great acoustics for music. They show first run movies there and have concerts, but to see the inside you have to PAY to go on the tour. It's on the point on the opposite side of the bay from where the tender boats go, but you can easily take the sidewalk to it.
Besides that, many folks rent golf carts (there are very few cars on Catalina) for the day, or just shop in the pedestrian-only oceanfront walkway. There is also scuba diving and horseback riding available, but I'm not sure if those were offered with this cruise. I know they have operators on the island though. The horse facility is inland and we saw it on
our bus tour.
Cabo San Lucas, Mexico, port-of-call: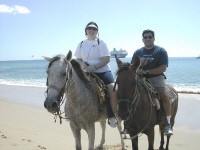 As funny as it sounds, Cabo was THE destination of this cruise. Folks cruised in the cold and fog of the coast for 6 days to spend the one day in Cabo. Cabo was warm, tropical, and beautiful. The bay water was 80+ degrees. Just beautiful. We were warm and tropical feeling on the ship the two days going to and coming back from Cabo, as we cruised by the Baja Peninsula.
We took a horseback ride on the beach for the morning. It was a great deal and we had a wonderful time. The horses go much further down the beach than the people walk, since you have to backtrack after you've gone one way. It was quite an experience. The horses have to really work hard to run in the sand, so it was like riding a jackhammer. We chose to walk most of the way even though our Mexican guide encouraged us to go faster. We had a private ride with just the two of us since we organized our horseback ride after we got there and not through the ship. We had found the name on the web "Rancho Collins". When you get off the tenders, there will be a bunch of pushy Mexicans that want to help arrange your excursions. We enlisted one of these guys, he went to Rancho Collins with us and negotiated our price for us, and we tipped him and were off! Great fun!
We went back to the ship for lunch and I stayed on board to enjoy the spa, but my husband went off again and rented a jet ski. He had a GREAT time and was like a little kid giddy with happiness when he got back. He gushed about how warm the water was.
The Spa:
My husband and I went spa wild on this cruise. Mercury has a standard Steiner spa, like many of the cruise ships do, but with the T-pool added. (Mineral bath hot soothing thing.. got to try it!) We loved the salt go scrub (we both had it). I didn't like the facial much.. they massaged THRU some covering they put on my face instead of directly on my face. It was very weird. I truly love this same-named facial on the Princess ships.
We also did the "Rasul" couples experience. Basically they put you in a little room that has a shower and its own steam room. The couple slaps various types of mud on one another, and then you sit in your steam room, and then you wash off in your private shower and that's it. It used to be really cheap, and I had read about it and wanted to try it so I made my husband do it with me, even though he thought it was too expensive. Boy, was it. You're not getting any kind of service here. You do everything yourselves. I don't see any reason to pay that much to use the private steam room. Sorry. I'd vote for you to pass on this.
Just a tip if you're a first-time cruiser... watch for specials on the port days (I often go off ship only a half day in the ports and spend the other part of the day in the spa). Also, sign up as soon as you board for your spa and salon times. They fill up fast!
I had my hair done up for formal night and they did a fine job in the salon. They were way overworked and running late though, and I almost missed my dinner time. Be sure you make your appointment for well before your dining time if you want to do this!
Tipping:
On Celebrity, expect to tip everyone on the last day of the cruise, with cash, the "old fashioned" way. You can also choose to prepay your tips before you sail, but I wouldn't do that on this ship again. We are used to the automatic tipping on other lines and don't want to deal with passing out cash, so we elected the pre-pay option. The bad thing about it was that our room steward gave us a verbal "we know you've paid your tips" with nothing to pass out. I asked about it, and he gave me ONE little card that I could insert in someone's envelope if I wanted. It would be better to get multiple ones of these so you could hand a card to the waiter, the assistant waiter, the room steward, etc. I just really didn't like it. Even though the staff knows you tipped automatically, you'd feel like a heel if most of your tablemates gave envelopes at dinner and you had nothing to give! We wrote nice notes to everyone so we had something to give AND because they were so wonderful we wanted to give them that extra thanks.
I know Celebrity and Royal Caribbean are addressing this issue on all their ships. Some ships seem to give you little cards to give to each individual person, and some give you just this one if you ask for it. At the time I sailed, they did the "only one" thing. Hopefully, they'll improve that.
Disembarkation:
The WORST. Be prepared. First, you'll be told exactly what time in the morning to present yourself in the showroom to the Immigration authorities, then you return to your cabin, have breakfast, whatever. Then you'll have a second time when you're supposed to report to your disembarkation waiting area. We were confused as to why there was two times and places on our paperwork, and now we understand! One is for immigration presentation, one for disembarkation. It's hard to fit breakfast in between. [Please note that this policy might have changed since this writing. See the disembarkation section of my Monarch of the Seas review.]
Celebrity has a policy that they are all happy about called their "No Announcements" policy. Basically, they don't call disembarkation color groups out loud like other lines do. Instead, they tell you which public area to go sit in, and then you CANNOT move from there. A member of their staff walks in and tells the group in that lounge, or showroom, or whatever verbally that you can all go now. If you're not in that area you're supposed to be in, you'll miss your time to disembark. And the public areas aren't big enough to hold all the folks that are supposed to wait in that area. So, unless you arrive early and lock in a seat, you're likely to be waiting uncomfortably.
We thought it was especially silly that they made this big issue about "No Announcements" because, of course, they DID announce lists of names of folks that hadn't paid their bill, or hadn't reported to customs, over and over. There was constant announcements, just not the helpful ones!
In Summary:
Celebrity is a much more traditional cruise experience. If you like traditional dining, going to your assigned show, and basically being on their schedule, its a GREAT choice. The food and service were at such a high level that I rank it high, even though I prefer a much more flexible schedule with more of my own choices. DO try Celebrity. We didn't like this particular ship, but do look forward to trying a larger Millennium-class cruise ship some time down the road. [Note added later: look for the Celebrity Infinity 6/1/06 coastal sailing review...it'll be my first Millenium-class ship]
Please remember to contact me, Suzy, if you're interested in booking a cruise. Not only do I write detailed reviews, but I take care of all the details when I book your vacations as well. Please hit "Contact Us" at the top of this page.