Cruise Line: Princess
Ship: Diamond Princess
Sailing Date: May 1st, 2004
Itinerary: Coastal - with details of the Diamond Princess and Sapphire Princess Special Personal Choice dining

Who "we" are
My husband and I are two 35-year old professionals. He is a Financial Analyst, and I am a travel agent.. but in a prior life I was a CPA. (I'm so cruise addicted/obsessed I had to become an agent.)

I am commonly referred to as "Suzy Cruisy" as that is my online cruise chatting screen name, and the name I call myself when contacting my cruise clients. My given name is Suzette, under which I have my other reviews listed, and when I refer to my husband, I will mention Charles. We have been together for over 7 years, but are still "newlyweds" as we only married in September 2003. Of course, we were married at Sea on the Star Princess by the Captain. So, if you want to learn anything about Princess weddings, you might wish to look up that review as well.

The cruise
There is absolutely nothing to write home about regarding this cruise. We sailed from LA (San Pedro) to Vancouver (Canada Place) for three nights, two days, no ports. The purpose of this little getaway was solely for relaxation, and to get to know the brand-new Diamond Princess real well. She is not only new, but a new class of ship for Princess. And I can say that she is definitely my favorite ship so far, and I've sailed a few :).

The Dining
I realize some folks think cruising is ALL about the food, but it's not. I'd say maybe 80% ;) is a better guess. For those new to Princess, or cruising, I'll explain Princess dining in general. Then I'll elaborate in the Diamond Princess dining experience, how it's different, and just THE BEST.

On most cruise lines, the main dining choices are two "fixed" seatings. You are either assigned early or late traditional fixed seating. In this traditional dining experience, you would sit at the same table, with the same dining companions, with the same waiters, at exactly the same time every night of the cruise. Cruises were like this because of the large number of folks that needed to be fed, and it was the most efficient to feed them "en masse".

On Princess, you can choose "traditional" or "Anytime Dining" as part of their "Personal Choice Cruising" concept. With Anytime Dining, your dining is much more flexible, even though you will order off the same menu as those folks that are in the traditional dining room. (The menu changes every night, usually with a "theme", so you don't see the same stuff twice during your cruise unless it's a real long one.)

Basically, Anytime Dining is like walking up to a restaurant at home. You walk up when you want during the hours they are open (usually 5:30 – 9:00pm), tell them how many are in your party, and they seat you as space becomes available. If you go during the "peak" hour of 7-8pm, then you might have to wait for a table. If you go much earlier or later, you can usually get seated right away. Also, just like at home, you can make a reservation if you are sure in advance that you want to eat at a particular time, at a specific table, or with a specific waiter.

How the Diamond (and its sister Sapphire) are different:
The Anytime Dining experience on Diamond has been taken to ANOTHER level. There is not just one, or two, Anytime dining rooms that have that evening's menu.. but FOUR uniquely-themed dining rooms. Now, its REALLY like a restaurant. The four themes are Southwestern, Asian, Italian and American Steakhouse. The decor is great, so be sure to try a seat in each one during your cruise. Each will offer the same "regular" menu of the evening exactly the same. You'll have the same menu in The Savoy (the steakhouse one) as you will in Pacific Moon (the Asian one), or the traditional dining room. However, in each themed room, they also have a signature entree that is available. So, in the Savoy you can order of that night's normal themed menu, or you can order a grilled pork chop. In the Pacific Moon, the signature dish is shrimp and scallops with rice noodles and stir-fried veggies. And in Santa Fe (the Mexican/Southwestern one) great Fajitas! (Sorry, I forgot to write down the Vivaldi special dishes, as I only ate there one night as I don't like to eat late, but they did have one or two. I was there on lobster night, so other things available went in one ear and out the other.)
One of the four dining rooms, Vivaldi, the Italian one, now serves the extremely high demand of early traditional fixed time dining until 8:15pm, and then it opens up for Anytime Dining. So, from 5:30pm to 8:15pm Anytime Dining is offered in three of the four, and then all four later in the evening.

Also of note is that the four Anytime Dining rooms are laid out exactly the same and have only ONE large, 10-person table. There are quite a few 4 and 6 person tables, some 8, and LOTS of tables for two against the wall.


Other dining options:
Princess has 24-hour room service, and buffet, if you don't want to have dinner in the main dining rooms.

They also have an Italian restaurant called "Sabatini's" that you can choose to pay a service charge to have either lunch or dinner in. The courses keep coming in here, and the very best waiters and waitresses are in here.
A new pay-extra service charge option they now have is the Sterling Steakhouse. They section off part of the buffet at night and turn it into the Sterling, where there is a $15 cover charge for getting more prime (supposedly) cuts of beef, etc. I actually tried this on the Dawn Princess, and didn't see any point in paying extra. The steak WAS great, but I also think the steaks in the regular dining room are great!

For an even more casual dining experience, they have a hamburger grill and pizza in the afternoon out by one of the pools. They also have "Scoops", a premium ice cream bar that has an extra service fee (that I always refuse to partake in). Free ice cream is available in the buffet in the afternoons from about 3:30pm - 5pm.

Breakfast, lunch, and "high tea" are always available in one of the main dining rooms each day also.

You will be given a "Continental Stateroom Breakfast" door hanger on your first day. You can make selections from here and hang it on your door at night and get your breakfast delivered in the morning. If you don't get a door hanger the second day, ask. Also, you can order whatever you want on the door hanger, not just what is pre-printed. Just write what you want in the margin, but remember to write EVERYTHING you need. For example, if you order pancakes, remember to also order syrup.

Entertainment
Like most cruise lines, Princess has "Vegas Style" production shows in the Princess Theatre on some evenings. Other nights, the main entertainment is a magician, or a singer, or a Comedian. We saw a good new production show called "Curtain Up", which we enjoyed a lot.

In addition, as part of the "Personal Choice Cruising" concept, Princess will have lots of other evening entertainment choices in other venues. There might be a funny, audience-participation show, like "Princess Idol", in one lounge while the main show is going on in the Theatre. Musicians playing various types of music will be playing in the different lounges throughout the ship. If you want disco, there will be something. If you want swing, there is usually one. If you want piano, there is usually one, etc.

The greatest thing about "Personal Choice Cruising" is the variety and choice you have. By simply looking at your daily activities list in the Princess Patter newsletter, you can see what entertainment is happening that evening that you want to partake in, and schedule your dining times around it! If you want, you could catch two different shows most nights. Also, on a weekly cruise, the production shows usually repeat in case you miss it the first time.

Seminar @ Sea
If you want to learn something new while you are at sea, then you can participate in one of Princess' new enrichment programs. On my cruise, only "pay extra" computer training classes were offered, but I know they do offer some complimentary classes on other topics on the longer cruises. Ceramics is one of the more popular ones during this new concept's first year - 2003.

The Diamond
There is something I can't explain that makes me love Princess ships' décor. They use lots of teal, earth tones, and medium oak – and everything is warm. The cabins have their beige and white "fabric looking" walls, rather than stark white panels found on some other lines. You don't feel like you are on a ship, you feel like you are in a regularly-constructed room. On the Diamond, it was even better for me. I took lots of pictures of the carpeting. (Charles laughed at me.) I particularly loved the décor in the Casino, as it was a Safari theme and there were big murals painted on the walls, and the carpet had lions and tigers, etc. in it. Fabulous.

For those new to Princess, the ship is 113,000 tons, holds 2,670 passengers, is 970 feet long, and has 750 cabins with balconies. She is one of Princess' largest. However, she won't feel that way when you are on her. One of Princess' taglines is "Big ship choice, small ship feel". What that means, is that it's big so there are lots of different things to do and see to suit your tastes, but you will not feel like you are in a big place. Where other lines have massive dining rooms that seat 1000 people at once (big, grand, and LOUD), Princess has 5 smaller main dining rooms. (I'll discuss dining it its own section.)

For those used to Princess ships, the Diamond class has passenger sleeping decks nearly identical to the Grand-Class ships (Grand, Golden, Star).. but some differences in the public areas.

Some of the features of the Diamond are:
-- Basketball & tennis court
-- Jogging Track
-- BIG Spa, with a "swim against the current" pool (see below for details)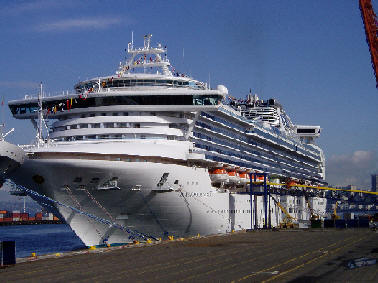 -- Cyber golf (pay extra.. hit against a screen)
-- Mini-golf 9 hole course
-- Ping Pong tables
-- Shuffleboard
-- Extra-large chess board out on deck
-- Neptune's Reef large outdoor pool with two spas
-- Calypso Reef large pool with retractable roof and two spas
-- Paddling Pool (deepish pool in the back)
-- Two more spas up on the deck slightly aft of Skywalkers Nightclub
-- Terrace Pool for adults only at the extreme aft
-- Children's areas for different age group kids 3-17
-- Princess Theatre for large big shows
-- Skywalkers Nightclub.. offering great views from its perch high above the ship between the aft and the center of the ship, and great disco dancing at night
-- Wheelhouse bar for lounging and dancing
-- Hearts & Minds wedding Chapel / computer training @ Sea
-- Shopping
-- Multiple smaller bars
-- Internet Café and Coffee Bar
-- Explorer's Lounge (more dancing and shows)
-- Art Gallery
-- Club Fusion.. for lounging, dancing, "nightclub atmosphere".. screens showing those dancing on the dance floor
-- The "Wake Bar" for a quiet drink
-- Churchill's Lounge for sports and cigars (bad combo I think, but, whatever!)
-- Many shops in the central Atrium area
-- Casino with many types of table games + slots
-- Library, with CD listening stations (cushy chairs you can plug headsets into)
-- Writing Room where you can sit and write or read and enjoy the view

For those who have been on Grand-class ships before, and are only thinking of the differences… I really like the moving of Skywalkers from the extreme aft to the new center/aft location. I personally always loved the Skywalkers old location, but sun lovers will REALLY like the tiered new look aft. Its beautiful seeing all those layers of wood, pools, and wonderful sun.

The wake bar is absolutely nothing to write home about. If it had some better windows, it would be cool. Also, having to walk across the dance floor of Club Fusion really limits its use. I mean, when they are having some kind of activity there, like Bingo, you aren't going to want to get up and walk right in front of everyone to go down there.

Lastly, Club Fusion in place of the Vista Lounge is probably good. It seemed that many folks never made it up to Skywalkers for their "disco" dancing time. Having this additional great dancing venue with the TV screens everywhere is a good change. I think it will take some the crowds out of the Explorer's Lounge in the evening. I'm not sure if the few slots and video poker they put in there is going to work out, but those machines weren't even functioning on my cruise.

Cabins
On this cruise, I sailed in a mini-suite for the first time. I've now tried all the different types, and think the mini is by far the best. Depending on your personal preferences, you can choose the cabin right for you. Insides (no windows) will always be the cheapest. Then oceanview, balcony, mini-suite, and full suite. I enjoy the balcony and above categories simply because you get the fresh sea air. I tend to think the insides and outsides are "stuffy", but I can still handle sailing in them if the price is right. I think a "port intensive" cruise would be best suited for an inside. You'll be so tired, you won't be doing anything but sleeping in your cabin. On a cruise with a lot of sea days, you'll be on the ship more and, therefore, might enjoy a more spacious cabin.

Balcony cabins are nice, but there isn't really much space for lounging in them. The balcony itself is the most spacious area of the cabin to "hang out" in. This is why Charles and I thought the mini-suite was the BEST. Along with a much larger bathroom with a bathtub/shower combo, we loved having the comfortable sitting area to lounge in.

We had a full suite for our wedding, but don't think it's worth the cost as compared to the minimal benefits above the mini-suite. The minis are abundant enough to sometimes get great discounted prices on, and the full suites don't generally offer any discounts.

Diamond-class ships offer a nearly-identical cabin arrangement as compared to the Grand-class. This means the following as far as balcony and mini-suite cabins are concerned:
-- Aloha and Baja balconies are smaller, and fully covered from above. They are not good for sun bathing, but are great for more privacy from above.
-- Caribe balconies are the largest on the ship and are half open / half covered
-- Dolphin balconies are fully open to above
-- Emerald balconies are fully covered

Remember that all Princess sailing passengers are entitled to a bathrobe to use while onboard. You don't have to be in a particular category to get this perk. If you don't have one waiting for you in your cabin, just ask your steward, or leave him/her a note.

Lotus Spa
The spa on the Diamond is big and fabulous. I've never seen a nicer one. There is lots of Asian-style décor, and more types of steam showers and saunas than I've ever seen! They also have some hot stone beds (in a curved recliner shape) that you can relax on before a treatment. I heard great things about them.

The only drawback is that the spa is directly below "Center Court", so you might hear a basketball bouncing the whole time you are doing your relaxing treatment. Very strange. I don't recall having this problem on other Grand-class cruises, but maybe no one was playing at the time. They certainly had the spa and Center Court in the same place.??!

The Menu of Services:
Ionitherimie Algae Detox – the "lost inches" thing $119
LT Oxygen Lifting Facial – 50 min for $99
Aroma Pure (Seaweed Massage) – 1.5 hour $158 – on float bed $173 – with Spa mini facial $208
Aroma Stone Therapy – 75 min for $175
Asian Lotus Face & Body Experience – 1.75 hours for $215
(this is a reflexology massage, scalp massage, & 45 min facial)
Frangipani Scalp Massage – 20 min for $29
Couples Massage – 50 min $247
Full body Massage – 50 min $99
Deep Tissue Massage – 50 min $104
Reflexology – 50 min $99
Aroma Flex – 50 min $99
Manicure – 45 min $40
Pedicure – 45 min $55
Rasul couples mud and steam treatment - $75
Various prices for hair cut, color, style in the salon. Updos are listed for $30, $35 & $45
Alpha Relaxation Capsule – 25 min $45, 45 min $60
Metabolism test & body fat Composition Analysis - $ 30
Various Cycling, Yoga and Pilates classes - $10 fee
Other stretch and Aerobics classes are free
Personal Training available for a fee

I personally did the Oxygen Lifting Facial on this cruise, as when I am pressed for time or money that's what I like best. On other ships I've raved about the Frangipani Scalp Massage, but didn't try it on this ship. My friend did and said it was great. My husband and I have tried the "Rasul" couples thing on another ship, and I would say to save your money. There is no need to pay $75 for you to slap gook on each other, sit in a steam room, and shower it off. ;)

Overall
I always love Princess cruises. This ship is no exception and I would highly recommend it!
Please remember to contact me, Suzy, if you're interested in booking a cruise. Not only do I write detailed reviews, but I take care of all the details when I book your vacations as well. Please hit "Contact Us" at the top of this page.

Happy sailing!