Oasis of the Seas Review – 7 nights round-trip Fort Lauderdale, FL
Suzy Cruisy & hubby Charles, both early 40's at the time of sailing
Let me start by saying this was the best Royal Caribbean cruise, SERVICE-wise that I've ever been on. So, I've not wanted to go on this fabulous new in 2009 ship because I feared lousy SERVICE, but don't hold back now! Because I'm here to tell you, not only is the ship fabulous, but the service is great too. So book it as soon as you can figure out how to get it in your schedule!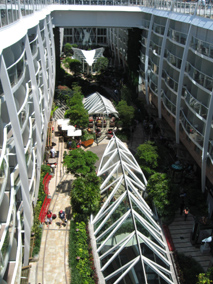 For this cruise, I was dragged somewhat kicking and screaming because I didn't want to go on the really big ship. But I did anyway because my travel agent conference was being held on it. The downfall of that, it turns out, is that I had to spend so much time in really great classes and less time exploring the ship than I would have if I had been on vacation.
Itinerary - Oasis and her twin, Allure of the Seas, are so large they have only special ports they can stop in that were designed for them, so this part isn't going to be rocket scientist stuff. And they sail from their special-built pier in Fort Lauderdale, FL always. Their voyages are often open further out into the future than other ships because of their limited port choices. If you want to plan something well into the future, just ask me!
I did the Eastern Caribbean itinerary, which was Nassau, Bahamas, sea, St. Thomas, St. Maarten, 2 sea days, back to Fort Lauderdale. 7 Nights.
I'll not have much to say about the ports, as I had conference functions on ship in Nassau, on land in St. Thomas, and I was so tired I didn't get off the ship in St. Maarten. FYI though, if you're into shopping, St. Maarten is the best of the three. Nassau is a really short day in port, so a ship excursion is the best option.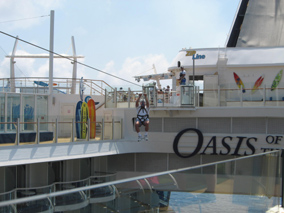 The Ship - Obviously, as Royal Caribbean has advertised, Oasis class ships are 'game changers'. Its quite different from any other ship out there. If you look at a deck plan, it doesn't do it justice. Even though you may know they have 'neighborhoods', its very interesting how they're spread around the ship. Whereas on other ships you have a high deck of activities and a mid-level one, this has stuff more spread out. It helps to spread the people as well. It never felt crowded.
On this ship, stuff is spread all over the place. Did you notice the spa is on Deck 6 forward? The Promenade is Deck 5 amidships? Central Park is Deck 8 amidships? The Boardwalk is Deck 6 aft? The only deck that is pretty consistent and somewhat like others is Deck 15 is where all the pools and wet stuff is. Obviously, its gotta be up in the sun.
I'm not going to spend a lot of time on the big areas that have been discussed at length elsewhere, but I did want to point out a couple of quiet and less traveled areas of the ship you need to not miss.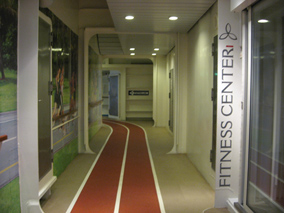 First, if you like walking or running, they have a great two-lane track made out of spongy track material that is really comfortable to walk on. The track loops nearly the entire ship on deck 5 and can be accessed from both sides of both elevator lobbies and the fitness center, as well as a stairway near the aquatheatre. The track is indoors in some areas of the ship, outdoors with water views as a promenade would be in some areas, and behind lifeboats in others. If you don't take time to do much, make one loop so you can read all the funny signs they've posted along the way. There is also an extra wide area at the extreme aft with deck chairs if you want to sit and watch the wake of the ship. Don't miss it!
Another great area is the starboard aft of Deck 14 where they have an open area with lounge chairs to view the sea if you want to see the sea if you've got an internal facing cabin. And at the port FRONT of Deck 14 you can walk out onto the bridge (which is huge) for great views, views back to the ship, and two great bridge-quality scopes you can look through.
Here's something my husband found. If you don't spend a ton of time at the pool or you go straight up one elevator to the pool you prefer, you might have missed this. Near the center bridge type area where the band often plays, there is a 24-hour soft serve machine standing alone.
Just as a side tip - the ship has an ample number of restrooms, mostly at the elevator lobbies. They're quite well marked, and have a picture of a man or woman's back profile in the pool and outdoor areas. However, when you're at the Boardwalk area near the Aquatheatre, note the large one port side aft. Although its right by the theatre, almost everyone streams out of the center aisle of the amphitheater and straight down Boardwalk towards the aft elevator lobby. That one seems heavily used and the far port one, seldom.
Lastly, do take time to go to Deck 17 if can. Not only is the Viking Crown Lounge nice, as always, but on one side of that is the wedding chapel, which is the most lovely with the most sunshine of any on-ship chapel I've ever seen. On the opposite side is the Pinnacle Lounge, which is a great lounge with floor to ceiling windows and lots of comfy chairs and couches. If you want a quiet time to yourself to read or reflect, this is a great place as long as the Lounge isn't being used for a private function!
Entertainment - This ship had by far the best overall entertainment I've seen on a ship. Its not often you attend multiple shows in a week long cruise where there is a rousing standing ovation each and every night.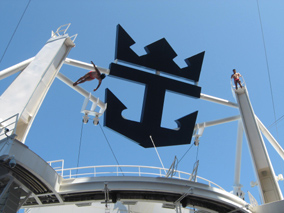 There are some important things to note about entertainment on Royal Caribbean ships though - you need pre-reservations or you won't get in. Look for the entertainment pre-reservations online four months prior to your cruise or so. There is an elaborate pre-planning area of the Royal Caribbean Website. Even before then though, look at the generic Royal site for projected show schedules. We printed out one for Royal's Eastern itinerary that was for March, and even though we sailed in May, it was still valid. The shows aren't the same every single night. For example, Hairspray will show only a few times a week, the Aquatheatre Oasis of Dreams a few times, etc. In order to coordinate everything you want to see, it is helpful to print out the grid of the whole week and figure out what you want to see on what night.
Hairspray, the musical, was truly incredible, and that was our very first night onboard! Also in the main theatre, the production show Come Fly with Me was spectacular. This is a show with lots of aerial acts and acrobats. We really enjoyed being in the balcony for that. I think it gave us a better perspective than having everything happening above our heads, but that's your choice. The theatre was specifically designed with Come Fly with Me in mind. This show is also offered as a matinee at 3pm on the final sea day, so keep in mind you could do another evening activity and still catch this one during your week.
Also special of Oasis of the Seas, of course, is the Aquatheatre. We saw the evening show, Oasis of Dreams, our third night onboard. It was quite lovely with diving, trampoline acrobats, and synchronized swimmers. The accuracy of the divers into such a small pool was amazing. I do want to mention though that I actually enjoyed the show Splish Splash, a comedy diving and swimming show, even better. This one is offered as a matinee on sea days, and I suggest you don't miss it! No pre-reservations required. And, lastly at that ampithetre, they have simply a fountain, lights and music water show called Fountain Show. We attempted to watch this one evening, but the sound part wasn't working correctly. It was fixed later in the cruise, but we could never fit a replacement time slot into our schedule.
Next on the hit list was the Comedy Club. They seem to have a few guys that are always there, and then some visiting comics. They were all good!
As with other Voyager-class and newer ships, Oasis has an ice rink with an ice show. Although we did catch this show Frozen in Time, also, it was my least favorite of the four major evening shows.
Just a side tip about the showrooms, which was ALL of them except Aquatheatre, I've never seen a ship with so many obstructing pillars. I'm talking about the small venues like the Jazz Club and the Comedy Club as well as the big showroom and ice show rink. Just columns all over, so do be sure to arrive early to get a good seat. If you have reservations, you need to show up at least 15 min before showtime anyway as they give up any remaining seats to non-res folks at 10 min until showtime.
Some of the characters from the major production shows have their own off shoot shows. For example two of the main characters in the Hairspray musical have an on off shoot singing show. And one of the main singers on both productions shows is a great singer that was on American Idol in 2010.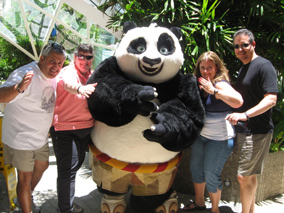 Besides major shows, the ship has the new DreamWorks Experience. This was a thrill for me, because I love animated movies anyway. I took every possible opportunity to have my picture taken with the characters. And they work it wonderfully on the ship. Each costumed character has a handler person with them who is happy to take a picture for you with YOUR camera. And sometimes they did also have official ship photographers there as well. Here is a photo of us with the Kung Fu Panda!

And on one of the final sea days, Thursday I believe, they have a DreamWorks themed parade down the Royal Promenade with all characters present.

Along with these major things, there was other entertainments. Many sessions of trivia, name that tune, art / making things classes, a huge casino (half smoking, have not), the usual bingo, and many other diversions. Of course, you then have the active entertainments as well like the zip line, rock climbing, flow rider surf simulators, ice skating, mini golf, bingo, etc. As a matter of fact, this would be a great ship to go on and never leave for the whole week! The sports activities like the zip line have long lines on the sea days but are easy to get on during port times (IF they're open then). Oh, and don't forget the Carousel you can ride on in the Boardwalk area!

Food - No discussion of a cruise would be right without talking of food! Of course, everyone has their own tastes in that. What is sort of irritating on this ship is that there is such a mind-boggling array of free and pay-extra choices. Its often difficult to keep it straight!

The main thing to remember on this ship is to not run to the same venues you always did on other ships. Meaning, don't just sprint to the buffet every time you're hungry. There are a bunch of great places to eat, many of them free. We LOVED the fact that they had flavored water in dispensers at the free breakfast and lunch type buffet restaurants. So, that would be the main buffet, the Solarium Cafe, Cafe Promenade, Park Cafe and Wipe Out Cafe I believe. My husband said with such fun choices, sodas were not necessary for him anymore.

I ate most breakfasts at the Park Cafe in Central Park, Deck 8. Since our room was on Deck 9, Central Park was just the fastest and easiest for us. Park Cafe had mostly continental with yogurts and fruit and a variety of bagels and spreads. I only made it to the actual buffet for lunch once! Most of the time we skipped lunch entirely, although we did do burgers and dogs in Wipe Out on embarkation day, did Johnny Rockets once ($3 per person fee plus drink fee), and finger sandwiches at Cafe Promenade once.

For the most part, realize that everything except the donuts in the donut shop cost extra in the Boardwalk area. Starbucks costs extra, but there is great Seattle's Best coffee for free at Cafe Promenade literally very close to there on the same deck. If you need a Starbucks fix, its there. But you can go free.

The dining room food and service were good. We ate there multiple nights at our assigned time, but did try to fit in the pay-extra choices for the chance to try them. We did Giovanni's Italian food for lunch one day. We ate with a large group at a conference-related function and they ordered everything on the menu for us to have family style, so we didn't feel the need to go back there for dinner. It was yummy and FYI this restaurant is being rolled out to all of the other Royal ships through the Royal Advantage redo program.

We had Chops Grille steakhouse actually twice. Once pre-planned and once, again, with a supplier that wanted to treat us. (Who are we to complain?) Obviously, if we didn't like it the first night, we could have canceled. The Crab Cakes are to die for! Don't miss them! They're an appetizer, but I swear, I could have just ordered a couple for my entrée instead!

One evening my husband and I did the Solarium Bistro. I want to say this is the most overlooked and lovely evening dining venue on the ship. The Solarium is converted from a buffet layout for breakfast and lunch to a beautiful linen table service restaurant at night. We had a 6p reservation, like our regular dining would be, and it was just sunset and just sail away and it was incredibly beautiful up there with all that natural light. Further, not many folks seem to know about it or have the misconception that its a buffet at night as well. WRONG. It has quite an interesting menu of more healthy options, but everything was super tasty. My hubby had the bison steak, which was actually better tasting than my salmon (and I love salmon!).

The friends we traveled with did Izumi, the Japanese restaurant, the one night we did the Solarium. They enjoyed it. They were unable to make a reservation, but the bar area of the restaurant is left open for walk ups so if you're open to that don't be sad if you can't get a reservation in advance.

To conclude the dining, I want to say that the pay-extra / alternate dining opens for pre-registration and pre-pay about 60 days before sailing. You need to stay on top of it, as these sell out quickly (except maybe the Solarium Bistro). And, obviously, having your entertainment reservations already done helps you to fit in your dining at correct times each evening. However, if you decide to change your mind before your actual reserved date, you can cancel your reservation up until the day prior with a full refund to your onboard account (even though you paid in advance). If you cancel same day as your reservation, they take a percentage of the fee. I can't recall what they said, maybe 50%? I'm sure you can look on Royal's own sight if you need to know for sure.

The Cabin - We had a Junior Suite, Category JS. Although I'd had clients rave about this CATEGORY to me before, apparently on the Oasis they are even grander than on the other ships. I LOVED the walk in closet. It was great in itself, but there was tons of storage, great lounging space, a big balcony, and a lovely tub with a shower over it in the bath. I would absolutely get one again. And I would suggest it to anyone traveling on this ship or another on Royal Caribbean.

We had a couple of challenges with our cabin I'll mention, although one of them might have been specific to our 9630 cabin. First, the vanity mirror sticks out right above the only electrical outlet at the desk. There was literally very little room for the big electrical plug of the hair dryer to go in. And that dryer had a 'have to hold the button down to make it work' feature. I used my own hair dryer all week because it had a smaller GFCI outlet end and it didn't have the dumb button.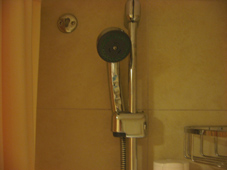 Second, our shower head was very strange. If you pointed the sliding height adjustment the way you think it should go, the hand held shower head nossle thing itself slid sidways due to the tension in the cord. It was important to back the showerhead into the wall so it would spray you properly.
Our good friends got a Boardwalk view balcony, so we were able to see what that looked like as well. It was fine. And the positive thing about the Boardwalk view is you're not TOTALLY enclosed by the ship and you can see the sea from your balcony by looking out the aft through the Aquatheatre. They said noise didn't bother them as they danced well into the night every single day and slept quite late without interruption.
And, as a stroke of luck, we made friends with some folks who had taken a discounted upgrade offer from a JS to a Crown Loft Suite - a smaller type of full suite that is two stories. They gave us a tour and it was just VERY interesting. I frankly would not want one. Although Royal touts the ROYAL Loft Suite with photos in its PR materials, there are only a few of those on the whole ship. Crown Loft Suites like my new friends had are many but are in a weird location. They actually looked straight down on the basketball court. So, they view neither the ocean, the boardwalk or Central Park. They couldn't see the Aquatheatre from their suite. As the name implies, the bedroom is in a loft that is open to the living room below. There are two full bathrooms with showers (one that is huge and could fit two or more) but NO tub. And they had multiple regular skinny closets against the wall, but NO big walk in like mine.
So, full suite perks are great - with the concierge lounge and alcohol included. But the room itself didn't impress me.
I didn't get a chance to view other cabin types.
Something I want to mention that would be of help maybe to anyone - remember cabins are made of steel and magnets stick to them. One of my friends showed me stuff stuck on her wall with magnets once, and that came in VERY handy this time. I took a full size map of Oasis with us and stuck it to the wall of the cabin. Then when we wanted to find something, or figure out where we hadn't explored, we could just glance up there. You just have to remember to take some magnets with you! I take cheap ones that I could leave if I forget them.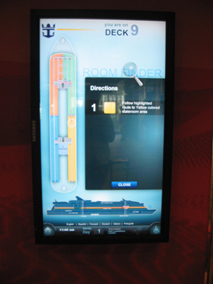 The Computer – Royal Caribbean designed a state-of-the-art interactive computer system to help you navigate the ship. I believe they actually won an award within the cruise industry for this fabulous invention! Within this computer, you can view the current day's schedule in the "What's Happening Now" area, get directions from your specific location to a specific cabin on that deck, view the currently open restaurants, and see how BUSY each of those restaurants actually are. It is all touch screen and very easy to use. There is one near each elevator bank, both port and starboard all decks.
Oasis of the Seas also has the most interactive TV sets in your cabin that you can possibly imagine. You can view your account, reserve restaurants and shore excursions, watch videos, and just a zillion other things. Its worth exploring just in itself! I frankly didn't have time to look at it very much.
Embarkation and Disembarkation - I'm sure, like me, you probably dread and think embarking and disembarking with 6000 of your favorite new friends will be a hassle. I'm here to tell you that this was the smoothest and fastest embarkation and disembarkation I've ever had in my 40+ cruises.
Embarkation was a true breeze with all of my Sea Pass pre-registation done. From the beginning of the building to the ship we probably spent the whole of 10 minutes or less. And that was just because it took time to walk through the building, through security, up the escalator and onto the ship.
We arrived about 11:30am and were lucky to be on time to them just opening the ship for embarkation and having the suite priority embarkation. Diamond and Diamond Plus Crown & Anchor members would have been next, and then the rest of the waiting crowd lounging in seats upstairs. However, our friends who were about a half hour behind us walked through everything just as fast as us because all the folks that had queued up were already on the ship. There are two big wide embarkation ramps.
The lifeboat drill was one of my least favorite ever. There are no life jackets in cabins, so you don't have to take them. However, our particular station was on the Promenade Deck right in front of the entry and exit door. There were no chairs and it was a long time to stand.
LOVED the disembarkation! They simply asked US what time we wanted to get off the ship and assigned us a number to coordinate. We wanted to take advantage of their express luggage service (where they take your bags to the airport, print your boarding passes, etc.) for $20 per person, but we could not because our flight was before 11am.
Lines inside the terminal were virtually non-existent as well.
However Royal Caribbean is doing this, every other cruise line needs to take a lesson!
Laundry - This might seem like a silly topic, but I did want to point out that Royal still does dry cleaning. And their cost was a lot less than my cleaning at home. The formal nights on this voyage are the first full sailing day (Nassau) and the second to last sea day (Thursday). Neither of which afforded me a chance to have tux cleaned before the first use or after the second one. However, in general you should know the prices are reasonable and the service on the stuff I sent out for both regular laundry and dry cleaning was good.
Smoking - Of course, you can read Royal Caribbean's smoking policy on their Website, but I will just give some interesting tidbits here that you might not be fully aware of.
Smoking on OCEAN FACING balconies is allowed, much to our displeasure, since the person upwind from us seemed to smoke constantly. We hardly used our balcony, although I did enjoy gazing at the sea from inside. However, internal facing balconies like Boardwalk and Central Park facing cabins do NOT allow smoking. And inside and oceanview cabins do not allow smoking at all.
And as I mentioned above, the casino was smoking on port side and non-smoking on the starboard. The poker room in the center was non-smoking as poker rooms often are.
Spa - I didn't have time to actually enjoy the spa, although I did do the tour on the first day. Like many things on this ship, the spa is multi-level. You walk in on Deck 6, where there is the salon, the Vitality Cafe (healthy food snacks), and the reception desk. There is also the teeth whitening area and other loud type areas. The changing rooms for men and women and the private treatment rooms are down on Deck 5, accessed by a pretty stairway or elevator within the spa.
My husband did a royal shave (or whatever the most expensive option is called at the top of the men's offering page) on the first formal night. He was not impressed. He said the treatment was in a loud section off the reception area and it wasn't very spa-like and the shave wasn't even that close. He said he could have done better himself.
I also signed him up pre-cruise for a full big treatment while I had one of my mandatory classes on the last day. He did a full body scrub and massage and said this one was quite good.
Just as an FYI item, we had no problem using our Crown & Anchor past guest coupons (15% off) on either the walk up treatment OR the prepaid treatment. For the prepaid they just basically credited our onboard account for what the discount would have been.
Photos - Oasis does photos different from every other ship I've been on and its quite interesting. Once you have your photo taken one time with your Sea Pass card scanned, every other time their cameras pick you up using face recognition software.
On your Sea Pass card there is a 'photo' number. It tells you what tower and then what album your photos are in within the photo area of Deck 6 in the Royal Promenade. Then you go to that place and view all of the photos taken of you if you want hard copies. You can also view your photos digitally if you prefer.
The paper versions cost $20 each for the 8x10 size. Our Crown & Anchor books had a buy 1, get one 50% off, so us and our friends spread our coupons out and made good use of the little pile of 10 photos we wanted for the two couples. The only thing that was a bummer was that EACH person's Sea Pass had to use one coupon, so we had to do a bunch of separate transactions.
The electronic version of taking your photos home was about $350 for ALL the photos taken of you on the trip or $150 for 10 photos. The way it worked it was explained to us was that you'd actually take a disk with ALL your pics, but you'd be able to 'unlock' just ten if you wanted that many. Unfortunately, we couldn't combine cabins to do this. The disk is ONLY your own cabin and we had a mix of pics we wanted with our friends. So, paper was the best for us.
Crown & Anchor - Royal Caribbean doesn't sign you up automatically for their past guest program, so be sure you sign yourself up onboard or after your trip. One of the best benefits I've mentioned multiple times in this review and that is the onboard coupon book you get on your next voyages.
Royal Advantage - (A tip from my conference at sea that isn't really the Oasis review)
Royal Caribbean is adding some Oasis like features to all of its older pre-Oasis fleet. Vision Class ships will have ariel acts in the Centrum. They're all getting Giovanni's Italian, Rita's Cantina (Mexican food on the ALLURE but not on the Oasis), the Dreamworks characters, and improvements to other bars and lounges to modernize them. Royal's intent is that you will get an Oasis-like modern experience on all of their ships. Not really sure I'm totally in agreement that anything but the Oasis and Allure can be 'Oasis-like', but be prepared for better stuff on the whole fleet. Six of the Royal ships will have the transformation by the end of 2012 and the rest will be completed in the next few years.
Conclusion - I sure wish there were more of these ships, because they're truly a resort that you don't have to leave at all in the week to have a great vacation. I hope to go again on either (but I'd really love to do Allure next time as the shows are different and some of the pay extra restaurants are different) with just a chance to relax. This time I spent many hours of each day in my educational classes (which were great, but didn't afford me much time to relax and take a zip or dip).
The service on this ship was better than on any PREMIUM line cruise I've taken in the last few years. In talking to some Royal regulars, they say its not just Oasis but this great service is fleet-wide. Makes me want to go again... whenever I can fit it in!
Give me a call or drop me an email if you want to know what Royal Caribbean is doing on geographic regions you want to sail. They have ships doing the whole world now, so they can fulfill most requests. If you don't know my email, you can use the Contact Us in the upper right of this page.
~Suzy