Cruise Line: Cunard Line
Ship: Queen Mary 2
Sailing Date: January 6, 2007 & September 27, 2008
Itinerary: Round-Trip Fort Lauderdale, FL, to St. Thomas, USVI 4-nights For my Photo Gallery of the QM2 - CLICK HERE
And Round-Trip New York, NY to Canada & New England 7-nights
This review will be a little different than most of my reviews, as it will actually be a combination of the experiences I had to two separate sailings. The first one was a 4-night "Getaway" cruise in 2007. I chose this cruise because my husband and I wanted to sail the Queen Mary 2 since we'd first heard about it. Because of it's extra per-day cost, and it's itineraries, it took us a few years but this short cruise was perfect to test her out!
The second cruise was a 'regular' 7-night Canada & New England cruise Round-Trip New York for our wedding anniversary. I'd say this one was a bit more "typical" of QM2.
Before I even start the rest of the review, I do want to discuss something very interesting, which you may want to keep in mind when booking QM2, or even Cunard for that matter. IF you're an American, you need to decide how "American" of an experience you want to have. Cunard is a line with extensive British heritage, and has quite a British flavor onboard. However, I had a very "American" experience on the short 4-day, namely American foods offered. On the Canada & New England cruise though there were a LOT of British and other European and South African guests onboard. I certainly enjoyed their company, but I did NOT like the menu choices. I did do the Galley Tour one day, and the Food and Beverage manager specifically said they cater the menu based upon the passenger mix on each sailing. That was very evident on my Canada cruise. If you look at the list of QM2's sailings, you would have seen a Westbound transatlantic from England, our Canada cruise, and then an Eastbound transatlantic cruise. There were MANY guests from England onboard doing the full Southampton 19-night Round-Trip.
So, if you'd be put off by baked beans and fried tomatoes for breakfast, you might seek possibly a Caribbean cruise that is in between other Caribbean cruises, all sailing Round-Trip from a US port.
Pre-Cruise, New York:
For the Fort Lauderdale Getaway we did a pre-cruise night at the Wyndam at the Fort Lauderdale airport. It was a fine hotel with a good cruise shuttle service. Nothing really to write home about.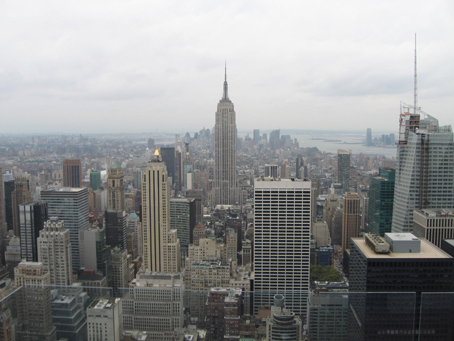 For New York though, I have a lot of tips to add. First, you need to decide based upon where you're staying and the time you're arriving how you want to get to your hotel. We arrived very late, so we were not interested in the hassles of public transportation. We headed straight for the taxi line. On the way there though, we got offered other transportation from an 'arranger' type guy to led us to a string of sedans and limo vans. The taxi will cost you $55 from JFK to Midtown, AND you'll have to pay for the tolls. The limo arranger hooked us up with a sedan for $55 INCLUDING the tolls. It was actually a better deal. And I suggest you go this route, as once we had the guy's phone number, we pre-arranged for him to pick us up at our hotel and take us to the pier a few days later. He did a great job with this. Unfortunately, he did NOT pick us up at the pier for the post-cruise ride to the airport as planned, so I am not going to suggest that particular guy for future trips. We hired another limo type driver to take us from the Red Hook Pier to JFK for $60. He was just there, waiting for a fare. I think we might have gotten a better price by pre-arranging, but it was not possible at the time.
Another option, which we 'explored' trying to kill time on our way home was how the Subway and other public transportation options work as far as getting to JFK. They actually work very well. There is a train that loops around between the terminals at JFK and then out of JFK to connect to the big trains and Subway. It's called the AirTrain. It is easy to use, and free to loop the airport. However, every time you go in or out of AirTrain departing to the outside world transportation each person must pay $5. You can connect to either the Subway OR the Long Island Railroad. We were very experienced at using the Subway for multiple days, so we actually did AirTrain out to the Subway, and then took a joyride for a while in Brooklyn, and then turned around and went back. It wasn't the fastest way to go, as there are a lot of stops. I think the next time I will research taking the big train, the Long Island Railroad, from the airport to Manhattan. http://www.lirr.org/lirr/index.html
Hotel – We stayed at the Doubletree Metropolitan on Lexington at 51st in Midtown for three nights. We liked this hotel and location, because it was right at a Subway station and wasn't in Times Square, which would have been even louder at night than we experienced. You can't escape the siren sounds in Manhattan, so be sure you take ear plugs! You need to realize that no matter which hotel you pick though, your room will be smaller than you're used to most likely, and it will cost a lot more than you ever dreamed possible. And weekends cost less per night than the weekday nights. Still, if you want to spend time in New York, you need a hotel!
There was a restaurant right at the street next door (on Lexington towards 51st) that was a deli as well as hot foods and desserts. We had dinner here our first night when we arrived past (from CA it was still early for us), and I had really good freshly made pasta. I'd suggest you not be afraid to try these little corner markets, as it was great!
Sightseeing in New York – We researched what we most wanted to do in New York, and then realized we could save money on the admissions by getting a NY Pass. I booked this for us as an agent after doing through research. Unfortunately, one of the main attractions we were going to do, the Circle Line boat sightseeing tour around Manhattan and out near the Statue of Liberty, we didn't do because of the weather. Just our luck a tropical storm was bearing down on NY our first sightseeing day, so we did our major outdoor activities like going to the observation deck of the Empire State Building and the observation deck of the Rockefeller Center on or first day, and then toured a funky museum called the Museum of Sex. (It is near the Empire State Building and was included in our NY Pass.) Since we only had an hour to kill, that was the only thing we had time for.
Our first full evening in NY was our wedding anniversary, so we had made reservations at Michael Jordan's The Steakhouse NY, located in Grand Central Station. Grand Central is a beautiful and historic building in it's own right, so having dinner there in the balcony overlooking the people bustling around on the main floor was really great. We could gaze at all the pretty windows, and admire the constellations painted on the ceiling, all from our perfectly placed table for two! We made reservations at www.opentable.com and noted it was our anniversary, so they did go out of their way to give us a great table. Very enjoyable. And it was only a few blocks from our hotel, but since it was raining we took the Subway from the station at our hotel down to Grand Central. Grand Central Station houses both big trains and Subway trains, plus it has a lot of shopping and dining. (Not just the MJ Steakhouse but a typical food court with faster food as well.)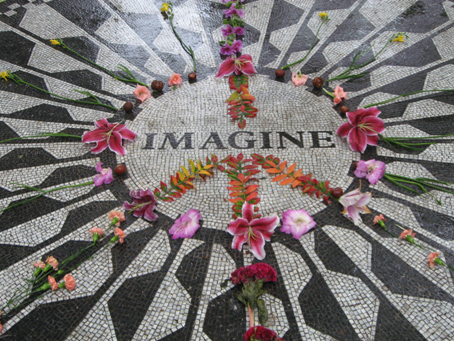 Our second sightseeing day was supposed to be the Museum of Natural History followed by that Circle Line boat cruise, but that didn't happen. To start, we got on the Subway D train, and we learned that it was an Express train to the Bronx. We zipped right on by the Museum at 81st Street, and ended up well away from Central Park. Since we were there though, we decided to go a couple of extra stops and check out Yankee Stadium. (I'm a HUGE baseball fan.) We couldn't get a tour of the stadium, but we got to gaze in it and walk around it. That was enough for the detour though, and we headed back on the B Subway to 81st Street. We spent probably 4 hours at the Museum, and we didn't even see everything. It's a wonderful museum. Be prepared to pay for extra stuff on top of your general admission, and try to allocate a full day. Our NY Pass included basic admission, but they had some 'special' exhibits that required an additional entry. We didn't get those. And there was an upcharge to see a movie in the Planetarium as well. We did do that, because we wanted a little time off our feet after all the walking we'd done. However, I'd suggest you skip that if you're heading for the QM2. The exact same Planetarium movie was showing on the ship the next day for free!
After the museum, we really didn't have time to do the boat tour, so we took the Subway down to Columbus Circle. This is basically the entry into Central Park on the Midtown end (and there is a circular road with a big statue of Columbus in the center). Anyway, another thing I really wanted to do, being a typical tourist in NY for the first time, was take a horse-drawn tour of Central Park. You know, like you see in the movies? What I learned though, is that there were no horses but lots of pedicabs. And thank goodness there were no horses around, since the horses do a VERY small little circle on that end of the park. The pedicab tour was quite good and quite through. And, we got a discounted rate of $55 instead of $100+ because it was an overcast drizzly day and there were a lot less tourist out. On the pedicab tour we saw the entire lower half of Central Park, were told interesting things about the buildings along we way, which parts of the park had been in which movies, and where the rich and famous live. We had a stop at Bethesda Fountain so we could get out and take photos. And then again at the "Friends" show fountain, and lastly we got off and did the walking path through Strawberry Fields where the Imagine memorial to John Lennon is and the pedicab picked us up on the other side. Not usually included in the tour, we also got out and took photos at the Terrace on the Green restaurant. I'd heard about it in so many books and movies I had to have an unscheduled stop there. The driver was great, and we thought it was a wonderful way to spend an hour. Here is a good site with maps of Central Park. http://www.centralpark2000.com/products/map/map_home.html
We ended our second and final day by going to Times Square, having dinner at Red Lobster, and enjoying just walking around in the drizzle and gawking at the neon. It was so amazing! We considered doing a Broadway play at the last minute, but it was too late. Instead, we walked until our feet were tired, and then took the Subway to Dylan's Candy Bar. It was not TOO far from our hotel, and a free ice cream cone was included in our NY Pass. Really good stuff, and it was fun. Right next to Bloomingdale's and worth stopping into if you're in the neighborhood. http://www.dylanscandybar.com/
THE CRUISE ~
The Canada & New England cruise got off to a bad start when we got to our cabin and had a note from the Captain that hurricane Kyle was barreling up the Eastern Seaboard directly in our same itinerary path. Because of that, our itinerary was severely modified. Instead of sailing from NY on Saturday evening, we would stay docked overnight in Brooklyn, and then have to give up our berth for another ship at . We would then sail out into NY Harbor and drop anchor near Staten Island, allowing the storm to pass by in the ocean while we stayed safely in the Harbor all day Sunday. What was REALLY irritating though, is other ships sailed out Saturday evening on schedule! What we later learned was those ships were doing US East Coast first, and Canada second. Since we were scheduled to do Canada first and then sail back down to NY, we would be going right in it's path. Why the Captain didn't decide to just flip our own itinerary around is beyond anyone's comprehension.
So, in the end we had a 'sea day' sitting in NY Harbor, and then a sea day sailing in the fog up to Canada the next day. Our port in Portland, Maine was canceled, and our port in Boston was cut short to only 5 total hours. All that said, I'll move on to the rest of the review.
Dining:
My reviews generally go in chronological order, starting with pre-cruise and pier comments and then discussing various parts of the cruise, the ship, and the ports. In the case of this particular cruise though, I think it's important to start with two very important things I learned about how some procedures work regarding dining and entertainment on QM2. Then I'll work in the rest of the information I always provide.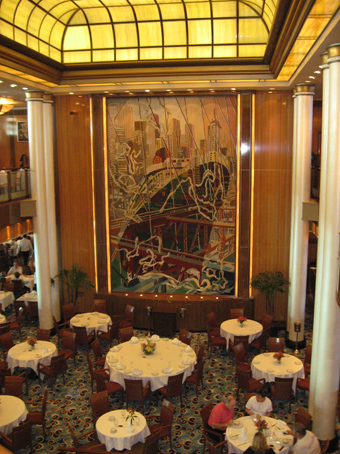 If you've never cruised, I'll discuss how normal cruise ship dining works. If you're experienced at cruising you can skip this paragraph, but be sure to pick up the next one as the QM2 is VERY unique and I have a lot to share about it. On most mainstream cruise lines, dining in the evening is done a "traditional" way. To feed hundreds (older ships) or thousands (newer ships) of people, the lines do the cooking assembly-line style in their kitchens. They want to feed many people at once, so their dining rooms are generally large enough to have half of all of the passengers eat "early dining", and half eat "late dining". In this format, you go to the same table that is assigned to you for the duration of the cruise every night at the same time. You have the same wait staff and the same dining companions every evening. Dinner is a multi-course fabulous affair not to be missed. I personally don't like the hard and fast structure of it, so I often choose cruise lines that give other options.
Along with the traditional dining room, nearly all ships also have a casual buffet area. On QM2 it's called King's Court. It's common to have breakfast and lunch in the buffet at your leisure, but nearly everyone goes to the traditional dining room for dinner. On Queen Mary 2 the King's Court area is not just one large buffet area like most ships though. It's four distinctly different themed areas. They are the Chef's Galley, La Piazza, The Carvery and Lotus. The buffet lunch obviously follows the theme the names sound like – burgers and deli in Chef's Galley, Italian in La Piazza, meats and potatoes in The Carvery and Asian in Lotus. Fresh cooked hot dishes every day and even sushi in Lotus some days… complimentary!
At dinner though, that's when King's Court really shines with table service. And not just table service, but linen-covered tables with candlelight and fine china. To dine at any of the four, reservations are suggested (required at Chef's Galley). Based upon my experience though, this wonderful area is such a secret, you could PROBABLY just walk up. However, you'll be sneered at by the Food & Beverage Manager in that station, because they really want you to have a reservation so they can adjust the volume of food they are planning in the main dining room.
Every night the Chef's Galley transforms into a demonstration kitchen where a chef cooks a set menu with lots of TV monitors and then you get to eat what you watched be prepared! It's really fun. The menu rotates nightly, with the usual pattern being Indian, Italian, French, Steak and Pan-Asian. If the guest complement calls for more demand on a certain type, they adjust it. On my 7-night cruise the Pan-Asian was skipped and Indian was done twice. I personally tried Italian and it was absolutely WONDERFUL. First the chef cooked the appetizer, and then they plated from the kitchen that same thing for the 15-20 guests in Chef's Galley. Then he came back and did the entrée, and after he showed us how it was done, we got that. And our dessert was Tiramisu, which had to be done in advance so we didn't see him make it but it was good. As part of the experience, you get a recipe list of the evening showing all ingredients and how to cook it at home. (Yeah, right.) This was by far my best dining experience on the cruise, and I was very sad that I couldn't reserve the next two nights, which were French and Steak. The French night was the only time on the whole cruise that filet was served on the ship. It was not offered ANY night in the Britannia dining room. What I learned the hard way though was that you can reserve the next night's Kings Court dining the previous morning. So, by the time we finished Italian and wanted to do French and Steak, they were both sold out. And one of the prior nights the Chef's Galley dinner was canceled entirely because less than 15 folks signed up. To increase our chances, we actually had our entire dining room table eat together up in Chef's Galley.
Of the other three choices – La Piazza, The Carvery and Lotus, at least one of the three will remain open as a buffet each night for those guests who just want to walk up and have a very casual meal. It rotates as to which of the three does buffet nightly, so planning ahead as we did really helps. Otherwise, you might plan to stop into The Carvery for table service dinner and find it's not table service that night. We were disappointed that on one of our nights TWO of the alternate restaurants had a buffet. I think on that Canada cruise, we weren't the only ones disappointed by the dining room menu!
The first alternate one that I personally tried was La Piazza, the Italian one with a menu you can pick from, just like eating at a restaurant at home. I had lobster ravioli and my husband had really great filet mignon on the Getaway cruise. On the second cruise, we both had the ravioli. The service was exceptionally good, since there were so few diners there. The food was cooked to order right in the kitchen we could see from our table… just indescribably good. And what I personally REALLY liked was that we had a reservation every night in the alternate casual restaurants. This meant we didn't really have to rush to get ready for our early seating dinner (as we most definitely don't like late dining if we have to do traditional).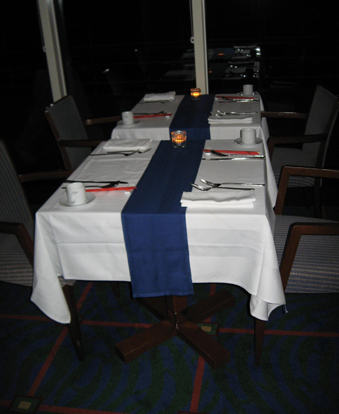 The second one that we tried on the Getaway cruise was Lotus, the Asian choice. This was very interesting, as it was a set 'tasting' menu. You got course after course of various Asian dishes, without you having any choice in what you got… but there was so much brought to us, that even if I skipped a dish I didn't enjoy as much as the others, I was still most certainly satisfied at the end of the night. On the Canada cruise we did not do Lotus again, but did notice that they added a la carte menu items to the menu, so you could do the tasting menu OR something else now.
On the final evening of the Canada cruise we had reservations at The Carvery, because I wanted to try all of the King's Court options. This was again really good. I had a roasted chicken and my husband had a great steak.
Overall, as I mentioned at the very top, we were VERY disappointed in the main dining room menu, and even the buffet for breakfast and lunch. The options were odd. The menu catered to other tastes. And even when we heard they had lobster on the menu one night and made an effort to go to the main dining room, we were disappointed. The lobster was breaded on top, and it was very salty. My husband properly evaluated it I think saying it had a bit of a 'fish n chips' taste. I can't imagine doing that to a perfectly good lobster! And the service was not super in the dining room on either cruise. Maybe it's because they're taught to have more standoffish proper etiquette. But I prefer more attentive service. I had a very difficult time ever getting my coffee refilled in the dessert course. Once I had a cup, that seemed to be it!
On future cruises I'll either cruise a more "American" itinerary, or spend every night in the alternate restaurants! The only drawback of those four fabulous King's Court options… you need to let your dining partners know you'll be AWOL from the main dining room so they don't end up sitting there waiting for you before they can begin their own dinner each evening. We did notice a few large groups in the Lotus restaurant when we were there. I didn't know for sure, but I guessed that was a full table from the main dining room that decided to try Lotus together.
Another evening, and on sea days lunch, option you have for dining is Todd English. This is an alternate restaurant where you pay an extra service fee to dine there. It's a gourmet restaurant with the name of that famous chef that has Olives in Boston, and all of the menu is his creation. The extra cost is likely $25 per person or so, but I'm not entirely sure since I didn't try it. In my opinion, the thought of paying for an alternate dining experience when the King's Court already offers four great choices is silly. However, if you want to try it because the menu just really tickles your fancy, you most likely need a reservation to get in. 'Pay extra' alternative restaurants on ships are common and the guests understand this concept. The concept of the buffet transforming into exceptional table service every evening is beyond them and was very lightly used on the Getaway cruise.
And one last comment about dining – there are MORE choices for the common folk. The Golden Lion Pub offers traditional pub food for lunch. We dropped in for fish n chips for lunch on the last sea day. You can always stop into this fun area if you are really in the mood for a true British meal! My word of warning though… I didn't think they had enough waiters. It's a bar AND restaurant, but there seemed to be a lot of bar staff and very few food staff. I'm not sure how far the waiters have to haul the food (could be a big hike on QM2), but I wasn't impressed with the service. It was fun to try though. And on nice days there is also the Boardwalk Café high up on deck 12. This was like a mini buffet with grilled items for lunch. Any time it was too windy though (whenever we were moving) you can't even get up to this deck.
The QM2 has a few other 'classes' of guests that paid more and have their own dining rooms. I'll discuss them in a different section of the review. They could also choose any of the alternative dining options as well as their own set tables.
Entertainment:
The quality of the entertainment was good/excellent. There is an important reason I'm putting entertainment as the second section of my review though. They have a unique room called Illuminations which is the only Planetarium at sea. The planetarium show only seats 150 people, and they give away tickets to it at of the day of the shows only. You don't have to pay for the tickets, but you have to obtain one to see a star show. They had many showings on the first sea day, and only a few the second sea day, and none on port day. Because we didn't understand about a ticket being needed, we didn't get one the first sea day out of ignorance, and the following days because we didn't get up early enough because the tickets went fast. It was very frustrating since seeing one of the Planetarium shows was at the top of my 'things I want to do on Queen Mary 2' mental list. You pick up the tickets on deck 2 at the Cunard Connexions desk. (Those were comments from my Getaway.) On the Canada cruise, they had a greater variety, and because the cruise was longer and there were a lot of guests onboard for the crossing before our cruise, and then ours, so they must have seen the shows already. The way it worked on the Canada cruise is they showed two Planetarium shows on each of the first two sea days. One at and and a different show at and . So, you got a chance to see all four shows they offer in the first two days if you were on the ball. Then, in the subsequent port days they showed one of these shows over a few times that day. So, Movie 1 was shown multiple times when we were in Halifax, and Movie 2 multiple times when we were in Saint John, etc. So, if you miss one early on in your cruise, you should have a chance to catch it later if you really want to see all four.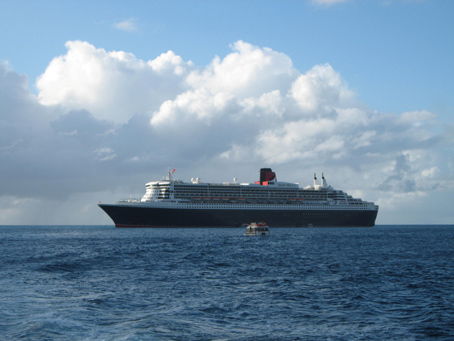 Daytime activities varied, trivia contests, the usual art auctions and bingo, dance lessons, classes, lectures, movies and other presentations as well as the planetarium show and regular movies showing in Illuminations. There was a lot to choose from for most folks. We chose to do one movie, but on our first cruise, we spent most of the time just running around the Queen Mary 2 just eyeballing everything and me taking photos. I'll discuss the ship in other sections.
Another activity you can do anytime, is touring the Maritime Quest Exhibit. This is panels on the wall with photos, quotes and words describing Cunard's history and the Golden Age of Cruising. The panels are numbered and are all along the stairwells on decks 2-6 and also all up and down the hallways towards the front of the ship on Deck 2, Deck 3 and Deck 3L. What most folks don't know is that you can check out an audio device from the purser's desk and walk around through the exhibit and listen to sounds that go along with some of the panels. There are sections on Cunard's history and building the different Queens, life onboard when transatlantic crossings were the only way to get across the sea, Cunard's line and ships as they assisted in various wars, and a section on the famous people and stars that had sailed on the Cunard liners in the past. It was very interesting. We checked out the audio devices multiple times and toured around for an hour or so and covered most of the Deck 2, 3 and 3L sections. We only got up the front stairway and didn't do the other three. However, it was enjoyable, and kept us from sitting on our butts after eating a few times. (Always a good thing!) I'd say, check it out when you're onboard! But be sure you get one that has a full three-bar battery. TWICE I got one that wasn't fully charged and after hiking to where I wanted to listen to the Exhibit, I had to go back to the purser's desk for another one.
Evening activities included one major show / entertainer (EXCELLENT) that corresponded to early or late dining, and then the casino, ballroom dancing in the Queens Room, or just a piano player or a trio in every other one of the lounges. Since I'm happy playing poker every night, we usually did the show and then played poker. We were quite happy.
The Spa is Canyon Ranch, and it is to die for. On our Getaway, we did no formal treatments but did buy a day pass for the inner Sanctuary. (I'm not sure if that's what they call it, but it's the T pool, saunas, Jacuzzis and steam rooms that are beyond the locker rooms and which you can't access without a day pass or a spa treatment.) It's LOVELY. And on the Canada cruise we both got 20-minute foot massages on our very first night (needed it after hoofing around NY). I also got a pedicure (the best I've had) and had pre-scheduled 50-minute treatments for the first sea day. We had arranged the sea day ones in advance with Canyon Ranch by following the directions in the pre-voyage booklet. We felt that with our original itinerary having only one sea day, the spa would be packed that day and we needed to be on the ball. My massage and my husband's 'back facial' were both good, and we enjoyed the Sanctuary before our treatments. If you like spas, you've GOT to try Canyon Ranch.
New York Embarkation:
This was a typical, smooth, embarkation. We had our passports ready and our credit card ready to be imprinted. We had to complete the now-standard "have you been sick lately" form, but everything was very fast. Of course, I'm a Platinum Captain's Club member, so I got to go in that express line, but even the regular line that wound back and forth seemed to go pretty fast.
First time cruisers take note: no matter what the official boarding time is on your ticket, , , whatever, always try to show up at to . Most lines will let you on early. You avoid some lines of those that don't know any better and actually show up at the 'official' boarding time AND you get to get on and start your vacation sooner! We showed up before , even though our tickets said our designated time was and we zipped right in!
Dress Code:
This 7-night sailing has two formal nights, 2 semi-formal nights, and 3 casual. Our original itinerary was really great on the Canada cruise, but when they rearranged the ports they blew the great dress code out of the water. Since we started the cruise with two sea days, they decided to put both formal nights back to back at the start! This upset many, including my hubby, who refused to do the tux two nights in a row. We opted out of the first one and did La Piazza, and dressed up for the second one. We did wear what we'd consider "casual elegant" even though we didn't wear our formals. However, we felt quite out of place in going about the ship that night.
Just be aware that Cunard is an upscale line with more of a formal bent, and they do really prefer you to be dressed for that night's dress code throughout the evening. Since most are on Cunard because they WANT the more formal, snooty atmosphere, you could feel out of place if you opt out like we did. On every other night, we dressed as was the code, even when we went to the alternate King's Court restaurants.
Cabin: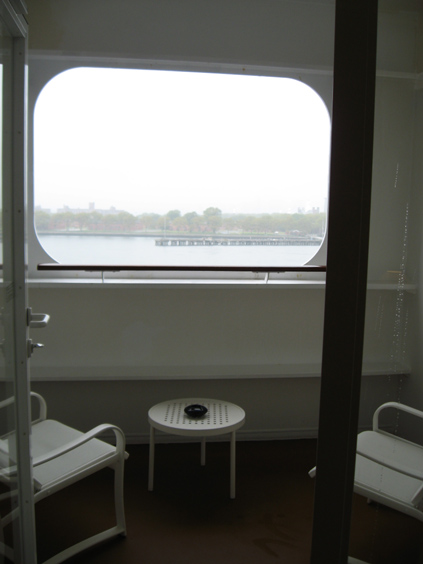 We had an inside on the Getaway, and an "in hull" or sheltered balcony on the Canada cruise. The inside was very spacious and comfortable at 157 sq ft. My only complaint was that the ship was so rock-solid I didn't feel like I was on a cruise! I couldn't see the sea most of the time, so I didn't feel like I'd had my "cruise fix" when I was done. I felt like I'd been in a great, grand resort for a few days! And I truly loved the balcony. It's white steel all around the balcony, with a cut out for you to lean on. This was great in our bad weather, and also great for privacy. It was also lower in the ship, and very stable. On QM2 she is SO tall, these sheltered balconies are BELOW the life boats, and then above that there are other balconies with glass fronts you might be more familiar with. I didn't want to pay the extra money to be higher and in a location where there could possibly be motion when all I wanted was a view and fresh air. I loved the sheltered balcony! AND it was larger. 269 sq ft vs 248 sq ft on the 'premium' ones up high with the glass fronts. Rubbish!
Upon arrival in the room, we had complimentary use of bathrobes (all cabin types can ask for this – it's not a benefit of having a bigger cabin or being a past passenger). We also asked right away for our beds to be separated just a tiny bit so we wouldn't disturb each other with the motion of the ocean. And we checked the pillows for firmness. On some ships and hotels we stay in, the pillows are too firm and fluffy for us, and we ask for flatter or down pillows. These pillows were great. And the bedding had duvets and was very nice. On the first night I was a bit cold, so I asked for a blanket it was done wonderfully. We also requested a sharps container for my husband's medicine, and it was delivered before bedtime. Prompt, efficient, service. This is why I take a cruise. And I have really high expectations. Whenever I sail a line that doesn't measure up, I get really disappointed.
The Queen Mary 2:
I was excited about sailing the QM2 the first time, and almost as excited the second time. The first time I sprinted around her for three straight days looking at every nook and cranny, but didn't really get time to enjoy her. On the Canada cruise I really did take the time to enjoy her features, like strolling through the Maritime Quest exhibit.
Queen Mary 2 is really a unique ship. When Cunard launched her in 2004, they made a huge deal about how she was an ocean LINER and not a cruise ship. And she truly is totally unique from any other ship. She has a very tall and very sharp pointed hull, meant for slicing through heavy seas of the North Atlantic. Regular cruise ships are like floating boxes by comparison. The main public decks where dining and shows are happen to be decks 2 and 3 – very low for stability and comfort as far as her decks top to bottom, but still high compared to other ships. And her buffet and spa and other lounging areas are on Deck 7. Very much in the middle of the ship, not up at the top. Her main pool area is actually at the aft of the ship, where she is tiered and open for sunning on many deck levels...safe from the wind as she moves. At the very top of the ship, Deck 12 and 13, there is a barren flat wooden deck. It's hardly used. And when she is moving, those decks are usually roped off because of the winds.
That brings me to the second thing that's really amazing about her… she is FAST. QM2 has a top speed of 30 knots. Celebrity Solstice launching late 08… 24 knots. That's pretty standard for a regular cruise ship, not picking on Solstice really. But the difference is quite big. When we sailed from Fort Lauderdale on that Getaway sailing, we were the last of I think 6 cruise ships to leave the port, and we passed all of the other ones going our same direction within about an hour. At dinner, we passed them like they were standing still. It's truly remarkable.
Another thing you'll need to get used to is that King's Court buffet that is on Deck 7 is not like any other design you'll ever see. The four separate themed areas are on the four corners of the King's Court, with the galley in the MIDDLE of the ship. You then have long skinny seating areas all along the perimeter for seating. This is what allows them to create those four separate dining areas at night (they even put up patterned partitions to make it more intimate), but it makes each of the four areas flow slowly. If you get behind a slow-moving person on one of those skinny perimeters where you'd walk to a table to sit at, forgetaboutit as far as passing them in any way.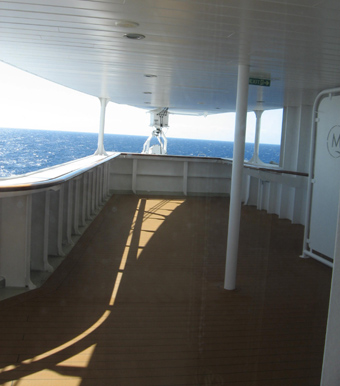 I want to mention a couple of places you might not ever know about or find if you hadn't read this. First, my favorite place for sail away is the observation deck at the very front of Deck 11. It's below the bridge and juts out on the sides like the bridge so you can view the side of the ship. Very cool. The next one is something even I haven't got to see. There is apparently a bridge observation area at the front of Deck 12 on the port side. When I did the getaway sailing, I saw the sign on the door "Bridge Observation Area", and I said "OH, shoot! That would have been cool!". On the Canada cruise I forgot to go looking for that area on the first two sea days, but remembered when we were at sea on our way to Saint John. I went to the door, and this time I noticed that it had hours on SEA DAYS ONLY. So, I missed it again due to the fact that I had multiple consecutive port days from then to the end on my Canada cruise. One of my British table mates gave even more info. He said they had a presentation on the bridge controls / buttons in Illuminations one day on the crossing. He said if you view the presentation, and then go to the bridge viewing area it's even MORE cool because you'll actually know what they're looking at! This is something to keep in mind if you're on a crossing, as I never saw that 'presentation' on the daily Programme our first two sea days.
Lastly, QM2 has some really funky decks. Imagine if you will normal stairs going north / south that you would walk from deck on, etc. However, if you're on deck 3 near Stairway B (the mid/forward one of the four) you can take stairs leading to the west / east, i.e. to the side, and you actually end up on deck 3L! This is an entirely different deck tucked in underneath 3 and above 2 in just three spots of the ship. You must figure out how to get to and from deck 3L so you can find: Illuminations, the movie theatre / Planetarium towards the front (3L is under the Royal Court Theatre). This section of 3L has game tables and reading nooks along it's walkway. And the Queens Room at the aft (unless you want to always walk though the Britannia Dining Room) is accessed off of Deck 3L between the C and D stairwells. The photo gallery and the art gallery are on 3L under the Dining Room in this section. And part of the G32 Disco is also on 3L, but that's not nearly as confusing because you simply walk though the Queen's Room to get to G32 and then you see the two levels of the disco right there for your use. The best way to understand this deck 3L is by looking at a cross-section type deck plan photo of QM2.
General comment about the ports and shore excursions:
I have always advised my clients to take ship-based shore excursions so they don't get left behind at the ports. I'm the over-cautious type, so this has always been the main reason why I suggest this. Even if your excursion is late getting back to the pier, if you're on a tour organized by the cruise line you will not be left behind. I did this for the two Canada ports.
On this trip, I learned another lesson. It's not really worth the money to pay extra if you're not in a foreign country that you're freaked out about being left behind in. The Cunard excursions were overpriced, and I did good research on my own for some of them.
Halifax, Canada, port-of-call: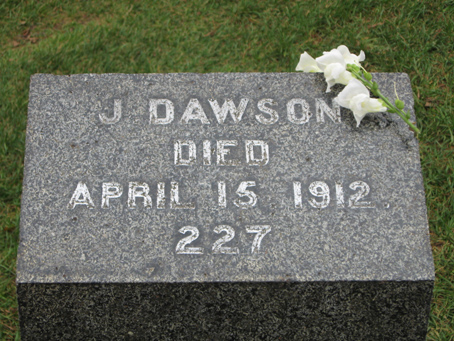 Halifax is a really nice little town with a lot of military and Cunard history. We did a city tour, which was nice, but didn't give us more then 10 minutes at the Citadel, an old military fort with a separate admission price. They had a guard in full kilt and gear (looked like the guards that change in London) and lots of folks were having their photo with him. And the highlight of the tour was the Fairview Lawn Cemetery, where the most of the Titanic victims were buried. Our Greyline tour guide was excellent, and she walked with us into the cemetery and told us personal stories of some of the folks buried there. And the stones of the Titanic victims were arranged in the shape of a ship's bow, rather than just straight rows. One of the most interesting things she said was that J Dawson, a man buried there, was picked as the lead name for the Titanic movie character because he had no living relatives! The movie studio actually researched that, and then fabricated the story. Isn't that interesting? His stone was covered constantly with flowers, other mementos and girls underwear during the heyday of the movie.
Halifax is really into their kilts and Scottish heritage, which was neat and a great place for that if you're interested in your inner Scot. Some Scots came onto the ship for a bagpipe demonstration that we didn't make it back for, but was apparently quite good.
If I were to go again, I'd suggest the hop on/hop off tour, so that I could see all the good stuff I DID see, but be able to get off and explore in a few places as well.
Saint John, Canada, port-of-call:
Please be aware when you're looking at ports, that there are two Eastern Canada ports with similar names. Don't get Saint John, NB and St. Johns, NS mixed up.
This port is a bone of contention for most on my Canada cruise. It's a very small town, with only one claim to fame and that is that it has the Bay of Fundy, with really dramatic tides. The tides are so strong they make the river run upstream. And they rotate every 6 hours by 22 feet of depth. Because of the deep draft of the QM2 we had to go in and out at exactly high tide (other ships left port about or whenever they wanted). So, we went in at and left at . The town celebrated us being there by putting a fireworks show on, which was nice. The downfall of us being in port so long was that the shopping and casino services didn't run late into the night after dinner because we were still in port. And I feel pretty strongly we were stuck with this port and Portland, Maine was canceled because the town had committed that fireworks show to us. After all, they even had it on our day when we were delayed by a day!
At this TINY port we did another city tour, which took a whopping 1.25 hours, including our stop at the Bay of Fundy. Unfortunately for us, we visited in the middle of the afternoon when the tides were nearly equal. At any other time, we would have seen a 14 foot up or down 'waterfall' of the tide difference between the Bay of Fundy and the river. You should keep this in mind when deciding on your tour time. Here is a great site that helps you see the future tides so you can plan the best time for you.
http://www.bayoffundytourism.com/tides/times/
Boston, USA, port-of-call: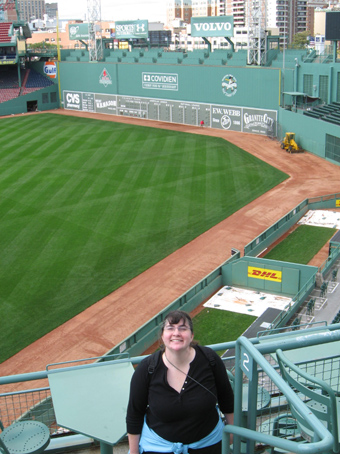 You would guess that Boston would be the biggest and most important port along our route, but with the revised itinerary they gave us a whopping 4 hours or so in this port. And on top of that, we had to go though USA immigration here because it was our first port after visiting Canada. If you do a Canada & New England cruise with Canada first and USA second, be forewarned about this. Customs was a terrible experience. Every single person had to 'present' themselves to customs, even though they didn't DO anything but say "Welcome!" and glance at our passports. AND they sent only 6 officers onboard to process 2300 of us! It was pandemonium and Cunard did a terrible job of crowd control. That said, we certainly made the most of our time there!
I mentioned in the NY pre-cruise write up that I was a huge baseball fan. The single most important thing for me to see in Boston was Fenway Park. If all I saw was the historic home of the Boston Red Sox, I would have been fine. As it was, we waited quite a while for a cab, and then finally got one to take us to Fenway. The cost was $21 or so 1-way. We got to Fenway at or so, and were able to grab a spot on the tour. (They do them every hour all year.) So, I was delighted and the tour was wonderful and we got to see everything…even inside the press box which is apparently a rare treat. We were extremely lucky, as Boston made it to the playoffs, but they were 'away' in their series with the Angels at the time. The tours are $12 per person. http://boston.redsox.mlb.com/bos/ballpark/tour.jsp
After the park tour, we hightailed it to the Boston Subway (we felt like Subway pros after our days in NY pre-cruise!), and took it to Boston Common. It was only $2 per person across town, and there is a stop for the T train only a few blocks from the baseball park. Our luck was holding out, as when we arrived at the Visitor's Center there was a guided walking tour of the Freedom Trail starting in only 10 minutes! The Freedom Trail is the thing most first-timers to Boston (like me) want to do. It is a marked path taking you across town to important sites in American Revolutionary History. You can walk the trial with only a map, rent an audio device at the Visitor's Center, or take a guided tour like we did. I think a person dressed up in historic clothing telling tales is more interesting than walking with a book, so we really lucked out. The guided tour was $12 per person, and it took us to 12 of the 16 sites on the Freedom Trail. And it ended at Quincy Market, which was a good place for us to catch a taxi back to the ship. Since it was and the ship sailed at , we were ready to end there. We were a bit sad that we missed the Old North Church and Paul Revere's House (part of stops 13 – 16), but we'll have to catch it next time. http://www.thefreedomtrail.org/
The ship offered a shuttle service to Quincy Market (not free). It went back and forth all day and Quincy Market is a huge shopping area that you can get to other important parts of Boston from. Or if you came prepared with Freedom Trail info, you could have done the Freedom Trail we did in reverse from there. However, we didn't think the ship shuttle service was a particularly good value. It was $9 1-way and $13 round-trip I think. That is per person. A taxi was $13 or so for two of us.
Quirks of the Boston Port – The Boston Port is called Black Falcon. We were one of three ships in port, and I think it holds three, but it could be more. The friendly taxi driver who picked us up originally told us the quirks of it. There is apparently a road going straight into each of the three cruise berths. If your taxi doesn't turn on the right road, he could drive you down the incorrect road for your ship and you could have to walk quite a bit to get to YOUR ship. We were the middle ship of three, so we made an effort to tell our return taxi driver that. Another thing I'd like to research more before I go to Boston the next time though is the Subway. It appeared from the subway map we got in the little Visitor's Guide book (they had some right when we walked off the ship) that there is a Subway station at Black Falcon. I have no idea where the station was in reference to our ship, but I'd certainly look into it. You can zip anywhere on that subway. http://www.mbta.com/
Lastly, if you're looking for a taxi, like we were when we disembarked, you could wait a while. When we got off the ship, there were none, and we waited and waited. The police / traffic guy said he was calling for them, but they were 'down there' (and he pointed to the area in front of another ship). Now that I understand about the multiple roads INTO the pier, it was obvious that the taxis were lined up on one of the other roads and not on our ship's road. If we'd just understood that better, we might have immediately started walking towards where they were instead of becoming frustrated that we had to wait 15 mintues.
Newport, USA, port-of-call: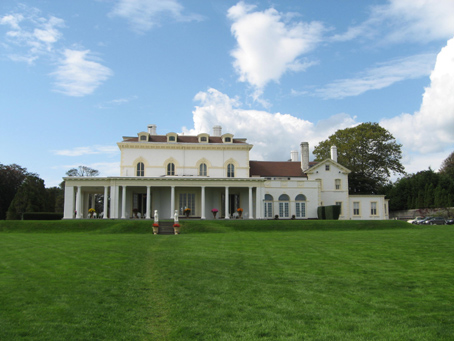 This little town is very picturesque for sure, but I'm not sure I'd rate it more important than Boston in our itinerary. (I would have rather had a long evening in Boston and then got to Newport late for a shortened day personally.) This was also a tender port, which is always a challenge. We slept late, and decided to go ashore around , when tender tickets were no longer required. After the hellish lines trying to get off the ship in Boston, we didn't want to have anything to do with lines. And since we had a full day in port and not a ton to see, we thought that was sufficient.
Anyway, the claim to fame here is the huge mansions of the old rich. You can access some of them with an entry fee. The Breakers is the largest, with the longest lines. We chose to skip that one and do the Astor's Mansion instead. What I thought was fun about the Astor's Mansion is they do a 'living history tour'. So, they dressed up in the way of 1891, and then gave us a tour with a specific theme, and told us little things about how etiquette and other things worked 'back in that day'. They ran the little tour quite well, but it only took 35 minutes for $15 per person. My husband complained about the price, but with about a half dozen characters in the reenactment, I figured it was OK.
http://www.newportmansions.org/ for overall info
http://www.astorsbeechwood.com/ for the Astor Mansion
The second thing, which is usually intertwined, is going along the "Cliff Walk". You can do a hike/walk along the ocean's edge that skirts along the back side of many of the mansions. We actually accessed the Cliff Walk right from the Astor's back gate, and walked about a 1/4 mile to the Breakers to catch our bus back. http://www.cliffwalk.com/
Transportation… Newport has a great public bus that loops though the mansions area that you can take for only $5 per person for an unlimited day pass. You catch it at the Newport Gateway Center, which is only a couple of blocks to the left on the waterfront road where the tenders drop you. You can get on and off in many places, to tour the mansions you want. We did find a problem with the stop going back into town from the Breakers though. It's SO popular that a huge crowd would gather for the bus, and the first bus that stopped wouldn't let anyone on because he could fit all of us? Weird. So we ran across the street and caught the bus going the wrong direction and looped back by the Breakers stop on the way back. Amazing. That driver let all on that could fit! With this great bus option, there is simply no reason to take an overpriced ship tour to the mansions. http://www.ripta.com/schedules/view.php
We got off the bus at the Brick Marketplace (a shopping area) and walked around and had lunch before going back to the ship. Since the lobster offered on the ship was not done to my liking, I wanted to have a lobster roll while in New England, and I wasn't going to rest until I got one!
Disembarkation:
First things first, I want to say that even if you have a Cunard transfer planned AND they've been given your outbound flights, you should STILL go to the Purser's desk and alert them before the second to last day of your flight. Anyway, we didn't.
What I hate about disembarkation is the fact that you have to get up SO early! Breakfast served only until in the buffet, and they want you out of your cabin by according to the last daily Programme. And, what I've noticed on a couple of my most recent cruises.. they take the "Do Not Disturb / Make up my Cabin" sign away from you as they make your bed on the last night. So, you don't have the option of leaving the "Do Not Disturb" on and keeping the steward from barging into your room. I Really hate that. Of course, as we went to breakfast, our bed was remade for the next guests, even though we still needed to go back and collect up our carry-on. Since I am Platinum past guest (due to me being a Cunard Expert travel agent, not because I've sailed enough days), we were supposed to meet up in the Todd English restaurant to await our color. However, we had asked for an early color because our plan was to do the Circle Line boat sightseeing tour of NY Harbor before our flight. We were called as soon as we arrived at Todd English, so we didn't even have to sit around. The plan to tour was nixed when our driver didn't show up though, so we went straight to the airport instead.
Disembarkation was very smooth. In the terminal we just collected our bags, and turned in our customs form, and were out looking for our transportation to pick us up within 15 minutes!
In Summary:
We had a wonderful time on the Getaway, and an OK time on the Canada. I think everyone should do Queen Mary 2 at least once if you don't mind dressing up. She is just SO different. And I can't describe what a star it makes you feel when you sail on her. Whenever you pass another ship, or are docked, there are always a ton of flash bulbs going off as people are taking photos of QM2. She has SUCH a presence that is unlike any other ship. And she's fun to explore.
If you're American though, I would caution you about the food choices on international voyages though. If you'd feel more comfortable with lots of Americans and American foods, try for a Caribbean or a Getaway (they have Getaways around our major US holidays). Cheers!