Cruise Line: Royal
Caribbean

Ship: Monarch of the Seas
Sailing Date:
October 15, 2004

Itinerary: Round-Trip Los Angeles, at sea,
Ensenada
, return to
Los Angeles
Review of Monarch 3 night cruise - Round-Trip Los Angeles to Ensenada, Mexico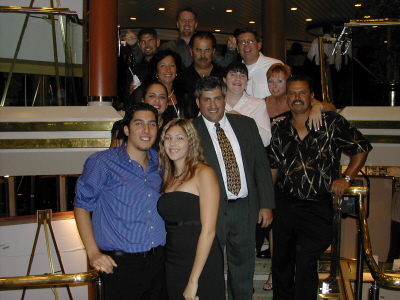 I chose this cruise because my family wanted a reunion on a 3-day from LA, and I thought this ship would be better than my previous 3-night Ensenada cruise on another line. I was not disappointed! This is a beautiful ship, and we had a wonderful time! It's amazing how one line's imperfections as compared to another line are glossed over when you sail with a group of family or friends. We had such a great time, I don't think much could have spoiled it.
Pre-Cruise in LA:
Many in my family drove to the cruise from various California destinations, although we did not. They stayed at the Sheraton in San Pedro, a great hotel if you're looking for a comfortable hotel at a good price with free parking while you cruise. A shuttle to the ship is included. Further though, something I didn't know was included or even optional, they got a cruise around the huge LA port that was educational and came with some food or drink or both. They said they had such a great time on that, that the fun had started before they had even set foot on the Monarch of the Seas!
My husband and I flew down and back the same day as the embarkation / disembarkation. Just a few tips on that in case you haven't read my other LA-departing reviews. We LOVE flying on JetBlue into Long Beach airport. Long Beach airport is physically closer to the San Pedro pier by only a small distance, but hugely more convenient. It's a small airport where you deplane onto the tarmac like the olden days. There is only one luggage carousel and your bags come quickly from the plane. It's just wonderful. If you're cruising on Carnival out of Long Beach, it's super close, of course.
In the past, we have taken PrimeTime Shuttle from the Long Beach Airport to the pier and have loved it. You had to reserve it in advance, and the shuttle came pretty timely and you hopped in and were gone again. JetBlue has changed their schedule and dropped the best flight time for same day fly downs for a cruise, so we flew on Southwest to LAX instead. What a hassle.
First, cab fares are set between the airports and the piers, so the set fee I think was $45 if we had done that. However, since we had such great luck with PrimeTime in the past, we reserved and paid for them from LAX as well. I'm not sure if we'll do that again. With either of the two shuttle services, the drivers want to not go anywhere until the van is full. In LAX we had to wait a while for a San Pedro van, and then once we were in it, we circled LAX three times until we had a vanful and were finally on the way. We thought that was frustrating. On the way back from the pier, same. We got in the van, but were told we would be waiting "at least" 20 minutes to see if they could get more fares to LAX. The waiting around was frustrating, so I think the next time we'll do the taxi or the transfers from the cruise line from LAX.
Go to Long Beach if you can!
San Pedro (Los Angeles Cruise Pier) / Embarkation:
The Monarch cruised out of the "nice" Berth 93 for this cruise. We arrived about and walked straight up to the check in for our deck and were checked in quickly. No line at all. We were very impressed and they were so efficient. We got a notice that was no longer important, but I'll share it anyway. They were allowing early boarding from probably , but asking you not to go to your cabin until . That way, you could get on and have lunch in the buffet and tour around the ship early. To me, this is a normal procedure. I always arrive early when I can, and usually I got straight to my room. They are nearly always ready on every line.
Boarding was also efficient. We had a small line to go through the x-ray machines, we skipped the boarding photo and were onboard in less than 10 minutes.. about .
First time cruisers take note: no matter what the official boarding time is on your ticket, , , whatever, always try to show up at to . Most lines will let you on early. You avoid some lines of those that don't know any better and actually show up at the 'official' boarding time AND you get to get on and start your vacation sooner!
Dining:
We thought the food was good, but not excellent. Again, since we got to sit with our family, and therefore didn't have to worry about any weird dining partners, we had a blast. The wait staff was good. We ate dinner at our assigned dining room table all three nights. The middle night we were at sea and it was formal day. They have NO LOBSTER on RCL cruises of less than 7 days, which irks some. I just wanted the Filet Mignon on the formal night, so I didn't care anyway. Just warning you though. Some folks are put off by the "no lobster" thing.
The dress in the dining room was not as you would expect. This was a true short, party cruise with lots of first-timers and jeans abounded in the dining room. We saw cut off tank tops, obnoxious hollering between tables, and doubt many of the waiters got all their tips. If you just go on the cruise understanding that the atmosphere will be different on this cruise than a normal 7-day where the dress code is enforced, you'll be better off.
Besides the main dining room, they have a few other choices. THIS IS IMPORTANT. There is a weird configuration to the ship on Deck 11 and 12 in the buffet area. As you go up the forward stairs into the dining room, you'll see the main buffet area in the center. There are a couple staircases on the sides that will take you up to a second level of what looks like just seating, and "Sorrento's" the pizza place. There is pizza available nearly all the time, even when the dining rooms are closed, even when the buffet is closed. If you continue on Deck 11 walking to the aft, there is a whole nother buffet section back there. The food is most often the same as in the main section, but many folks don't find this part so it's not as crowded. The décor is nicer too, as it goes with "Jade", an oriental theme.
If you continue on Deck 12 toward the aft from the pizza, you'll hit "Jade", a sushi restaurant that is open certain hours for a "pay extra" alternative.
In addition to the buffet being open for breakfast, lunch and dinner, it's usually open for a late night buffet as well. Watch the daily Compass for the buffet hours. Be careful to watch the location. On the first night, the buffet was only open in Jade – aft, and some in our family who skipped the dining room complained there was no food for them in the buffet because they didn't know about the aft portion. They only knew of the center, obvious portion.
I do miss being on a ship that has a 24 buffet of fruit and cheese and stuff. There are many "in between" hours were only room service and pizza are available. I tried the pizza, I found it nothing to write home about.
I ordered room service on the Ensenada morning. I didn't use my door hanger the night before, I decided to order that day. They only have continental selections available in room service in the morning (cereal, coffee, breads, etc.). They told me it would take 45 minutes, which it did, but that was fine. I was in no hurry. They didn't bring butter or jam with my toast, so be sure you ask for whatever you need when you order something.
On one afternoon (our sea day) there was a lunch BBQ up at the pool that was yummy, although there wasn't any great places to sit and eat it.
Lastly, as a personal obsession, I nearly always order chocolate covered strawberries for myself when I cruise. I usually have them waiting when I arrive, but sometimes order them once onboard. On most lines I've been on, when you order them onboard it takes a day to get them as they make them fresh. On this ship, when you ordered them from room service, they came instantly. That was fine and dandy for a moment, but the fact is they are older berries, premade. By the next day the berries had "fur" and had to be thrown away. We complained and got replacements, and the next day after that the new ones had "fur" also. Berries might not be your obsession, but if you order them, do the very small tray instead of the larger one so you can eat them on the day they arrive. Don't waste your money on ones you'll have to throw away!
The unlimited adult soda card was $18 for this cruise if we had chosen to get it. I think that's just WAY too pricey for a 3-night cruise. Although I think the soda cards are a good value on some lines, I don't think so on Royal Caribbean. Skip it, and pay as you go we say!
Cabin: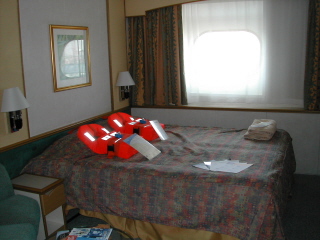 We had a high deck oceanview cabin, Category SO, #9038. You should know on this ship they have a ton of folks crammed into vary small cabins, with expansive public areas. She is truly built for the Caribbean, where you're expected to spend very little time in your cabin. Nearly all cabins on this ship, both inside and oceanview, are only 119 or 121 square feet. This is so tiny, I wouldn't deal with it. I booked the SO, which was 157 square feet. It was quite comfortable. The view was terrible though. The lifeboats were just below our deck, so we couldn't look down to the water, we could only see straight out. Above us, the JS and higher cabins are truly large, so if you want one, know you're paying for something really great when you get that high price quote.
Our cabin had the bathroom on the left and the closet on the right as you entered. Then the vanity was on the right beyond that, with a loveseat sitting area on the left with a coffee table. Further into the room, our queen bed was at the end of the room on the left, with a small amount of space to walk between the bed and the window at the far end. On the right hand side of the room was a counter with storage underneath, the TV on top as well as the sodas and bottled waters you could pay dearly to consume. I saw a room configured with twin beds on my way out on disembarkation day. I wouldn't have liked that as much. The one bed would have been totally against the wall with the window so you would have to crawl on it to look out.
The cabin came with a refrigerator, I don't think the lower deck cabins did. (Either that or the relatives didn't find it in a cupboard.) The hairdryer provided worked fine and was a travel sized "you plug it" hairdryer, not something attached to the wall. There was multiple electrical outlets, a huge plus as most cruise cabins only have one outlet. The bathroom was configured well, but the shower was small and had the curtain that hugged you. They had some problems with drainage of the grey water as we noticed our sink drained slowly nearly the whole cruise and our shower water came out the overflow and flooded the rest of the bathroom during the peak morning period on our port day. We were glad we had requested extra towels. The toilets worked fine, but must have been shaped weird. If you threw your paper down too close to the front of the bowl it never flushed down in the vacuum system. Kind of a disgusting pain.
Upon disembarkation, we noticed that the lowest passenger decks had only porthole round windows on the exterior, and Deck 4 and higher had regular sized ones. So, if you want an oceanview on this ship, go for decks 4-7. Deck 8 is obstructed by lifeboats.
There was plenty of closet space and drawers. We asked for bathrobes for us to use while we sailed and got big thick terry cloth ones delivered later in the day. I am SO spoiled after going on Princess, where robes are available for every passenger to use, I expect this on all lines and get really disappointed when its not offered. So far, I've gotten them without a problem on both RCL cruises I've taken by simply asking.
Every night we got a chocolate on our pillow, and we got towel animals on two of the three nights.
The decor of the cabin was nothing to write home about, but better than other RCL and Celebrity cruises we've been on. The walls weren't stark white. The metal panels had some earth-toned coloring in them and the wood accents in the room were medium oak. We really liked it.
Entertainment:
The quality of the entertainment was so-so. The production show we went to on the second night, we walked out on. We didn't bother with the welcome show or the good-bye show. There was only one show the first night, and it was really late. The lounge singers were good. They have an excellent Latino music band that plays in Bolero, as well as some guys that are great and do dueling pianos there. The Circuit dance club didn't start playing dance music until at night, which was too late for us. Our family had a blast there nightly though. We were just really happy with those performers in Bolero though, and spent a lot of our evening time hanging out there with our family and friends. They have a FABULOUS classical guitar player that plays at various times in the Centrum. His name is Ramon and the sound is great drifting through the whole center of the ship. He drew quite a crowd on some nights, even though there isn't really room to sit anywhere in the Centrum. And he sold CDs for $20 a pop like they were going out of style. I bought one. I'll always remember this cruise when I play it!
On the formal night, there is a Captain's reception if you want to get in line to meet the Captain, and then listen to him speak. We popped in for a free drink, and then out again as we had other things we wanted to do with the family.
There were no movies played on big screens in any of the show lounges during the day. The only movies were on the TV, and I don't go on a cruise to hang out in my cabin watching TV. I thought that was a bummer.
The Monarch of the Seas: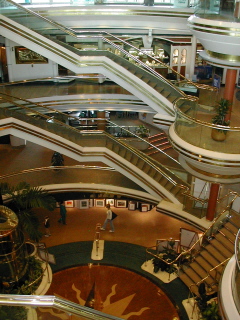 I was skeptical about going on this ship, knowing she was originally built in 1991. That's pretty old for cruise ships nowadays. However, she was completely redone in 2003 and she is gorgeous. We met some nice folks for breakfast in the dining room one morning that live in Florida and have sailed her sister the Sovereign and they said Monarch is WAY nicer.
She has a beautiful, multi-deck atrium in the center. The dining rooms are off the atrium at Decks 3 and 4. Two separate ones, not one big loud one. We really enjoyed that. Tons of other stuff is right off the atrium as well. The Schooner Bar and the Casino on Deck 5, the photo and art area is way down on Deck 3. I thought that was an interesting location. The business center, the web center, the library, future cruise sales and Crown & Anchor Society desks were all off this center Atrium. Of course the Purser's Desk and the Shore Excursions desk were also there, along with the shopping, the "pay extra" coffee (Seattle's Best) and ice cream (Ben & Jerry's).
There was two glass elevators in the atrium that only went between Decks 3-7 at the center of the ship. I thought this was a bit of a bummer. You had to go up and down either the forward or the aft elevators / stairs and the elevators seemed to rarely stop in the forward whenever you wanted to go from your cabin somewhere. Try the aft when you can.
I thought it was very cool that the spa was at the aft of Deck 9, my own deck, because I love spending time in the spa. We had pedicures and I also had the "standard for a cruise ship" oxygen-lifting facial. As I always say, the cruise facials are not like anything on land spas, and if you can only get one thing, get that!
They had the kids center on Deck 10 aft, and a great little arcade with air hockey (we love that) on Deck 11 aft. In the aft of the ship, between decks 5 and 8, there is a three story wall mural art thing going up an open hole. I thought that was a nice décor feature.
At the top of the ship, there was only one pool area in the center of the ship. It had two pools with two whirlpools in the center of them. I'm used to more pools, but this worked out fine. They have lots of deck chairs, on two levels, to choose from. Everyone seemed happy!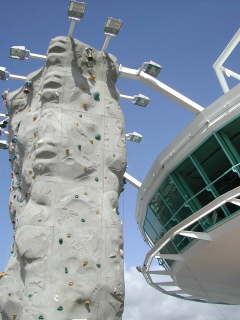 At the aft of Deck 11 was the "added later" signature rock wall. There was lots of activity around it when it was open, although we thought it was a shame they plunked it down right in front of what I'm sure used to be a beautiful expansive view to the aft from the Viking Crown Lounge. Down one deck in the aft was a big wooden deck area with an often-used basketball court and some ping pong tables and shuffleboard.
Ensenada, Mexico, port-of-call:
Like most of the folks on this ship, we were from California. Many of us have cruised to Ensenada and it's not all that special. We do want to someday do the blowhole tour (a natural geyser caused by tides spewing water up a crack in the rocks). However, since my husband was with his partying family, they did the usual "Papas & Beer" drinking escapade for the day. And they shopped a little.
I stayed onboard and took lots of pictures of the ship, read my book, did my facial, and just relaxed. I do this often in ports (if you've been reading any of my reviews you'll probably notice a trend). To me, the ship is the destination and I don't really care where it stops. I like to go for the spa specials on the port days!
Tipping:
On Royal Caribbean they seem to be changing more from the cash tips at the end of the cruise to encouraging you to put the tips automatically on your bill. However, it's still a choice for you. You don't have the tips going automatically onto your account like many lines do.. YET. They did give us flyers about five times encouraging us to make the automatic tipping choice though, kinda cramming it down our throats. We chose to give cash tips, as we had them ready before we embarked. I did feel real bad for the workers on this cruise though, because as I said in the dining section, I think many of them get stiffed by the newbies that are unaware if the tipping situation.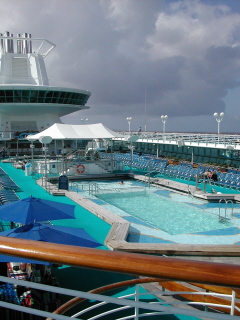 Daytime Activities:
We found the daytime activities during the sea day to be wanting. We attended a fabulous cooking demonstration in the Centrum, but didn't see much else that appealed to us going on. My husband didn't want to participate in the sexy legs contest or the belly flop contest, and I wasn't into trivia. We ended up just lounging with our family, and spent some time in the spa and the arcade. I do wish that even on the short booze cruises they would have more interesting activities going on. There was a LOT of bingo.
Disembarkation:
Pretty bad. Be prepared. If you've purchased more than the allowed amounts of alcohol or something, you're requested to present yourself to customs officials at in the show lounge. If you're OK in that area, expect to get up early anyway.
Breakfast is only served on disembarkation day, and the upper decks get called for disembarkation in the hour, the lower in the hour. They get us off early. They have some really bad procedures besides that though.
They don't want folks hanging out on the Centrum, so they rope it off. They want you to wait in your designated lounge after and be cleared out of your cabin. I guess not having us congregate in the Centrum would be OK, but they made a terrible procedure to replace that. They filter everyone through the forward stairway / elevator lobby and release you to go from there if your color has been called to disembark. So, when you get called, you get a jam up there. What makes it worse is that they now separate the passport people from the birth certificate people.
If you've got a passport, head toward the right had fringe of the crowd jammed up in the third floor elevator area. If you have a birth certificate, go to the left. And realize that some folks whose disembarkation color HASEN'T been called are crammed in there too. It's so stupid. Once we figured this all out we stepped back, went around the right hand fringe of the crowd and walked right out to the check out with our passports! No waiting. The RCL folks were holding folks from going forward that had a birth certificate though.
We found out in the next section why. They separate us into to separate lines. The BC line and the Passports line. Once the queue gets too long for BC going into customs, they stopped those folks from checking off the ship. On this cruise, it really PAYS TO HAVE A PASSPORT INSTEAD!
Customs was normal. The line going through was pretty bad. The actual checking through was painless. Gathering our luggage in the colored areas was easy, and then we were off to our PrimeTime Shuttle.
If you want to take a shuttle, just like the Long Beach pier, they have a transportation "coordinator" there. You have to put your name on the list with the coordinator, and then he'll assign you a van. We were not allowed to talk to a shuttle driver we saw go by and circumvent the coordinator. This really sucked, because that van went straight out, and as I mentioned in the pre-cruise part, we had to sit in the empty van waiting for more passengers to possibly show up for 20 minutes. When none did, we complained and they took just the two of us to LAX.
In Summary:
We find this itinerary totally non-thrilling since we've done an Ensenada cruise now three times. However, the ship is beautiful and we and a wonderful time. If the price was right, or we had friends or family that wanted to go on a short cruise again we'd consider it. I still like Princess much more than Royal Caribbean, and would always choose Princess if it were available on a 3-day Coastal cruise over this one though. Conversely, I'd choose this one over Carnival if those were my only two choices like they were for this cruise!
Please remember to contact me, Suzy, if you're interested in booking a cruise. Not only do I write detailed reviews, but I take care of all the details when I book your vacations as well. Please hit "Contact Us" at the top of this page.